Back
Discover the new book by Anne JENY and Julien ONILLON: "The 12 Labors of the Financial Analyst" (in French at the Editions Pearson)
Financial analysis is a fundamental subject of Finance and is the main tool for understanding, financing and evaluating companies. At first glance, financial analysis may seem dry, but in reality it is a fascinating profession that uses techniques used by the world's leading financiers and investors. It constitutes a real investigation into the heart of the functioning of companies.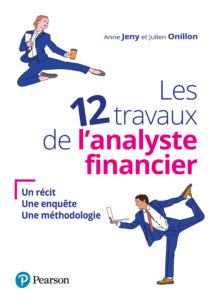 Both theoretical and practical, this book (available in French only, published by Pearson) by Anne JENY and Julien ONILLON, tells the captivating story of a young analyst starting off in a trading room. It explains the job of a financial analyst, its stakes, its environment, but also the pitfalls to avoid and the instinctive reactions to have. It details step by step the analysis of three listed companies following the 12-step methodology of a financial analysis firm.
Each chapter illustrates a methodological point. Academic explanations (analysis of the strategy, industry, financial statements, valuation…) punctuate the book. Throughout the story, definitions and vocabulary appear in the margins. Each chapter ends with theory sheets containing concepts, mathematical formulas and key lessons to remember. Three real life and historical cases (ArcelorMittal, Dassault Systèmes and Casino) are the common thread and show concretely the contributions of financial analysis.
The analyst's job is often poorly known and the gap between the related studies and the reality of the job market presents a real challenge. This book was designed by its authors as a tool for students or young professionals who are entering the job market and need to apply their financial analysis courses in a concrete way. This book is also accessible to all the actors of companies who would like to discover the backstage of the profession.
Anne JENY and Julien ONILLON explain: "With this book, we did not only want to make a didactic, theoretical and technical work on financial analysis. We wanted to show, in very concrete terms, how analysts work, analyze companies and accounts, build their models, value companies, and prepare their studies. We also chose to focus on the sell-side analyst's job. These analysts, who work for stock market companies and advise large institutional investors, publish their research studies and are therefore closely followed by companies. Finally, this book offers a cross-sectional view of financial analysis: the practitioner's point of view and that of the academic.
More information about the book on the Pearson Editions website.
---
ABOUT THE AUTHORS
Anne JENY is a professor at IÉSEG, academic director of the ESSEC Audit Manager Master's program and treasurer of the European Accounting Association. A graduate of Paris-Dauphine and HEC, she taught at HEC, ESCP, EDHEC and ESSEC before joining IÉSEG in 2021. She teaches financial accounting, financial analysis, value creation and company valuation. She has published numerous articles in prestigious academic journals.
Julien ONILLON is a multi-awarded financial analyst and founder of LPE Research, an independent financial analysis firm. He has more than 25 years of experience as a financial analyst (HSBC, BNP Paribas…), investor relations (ArcelorMittal) and financial director (Aperam). He teaches financial analysis at ESSEC. He is a graduate of the French Society of Financial Analysts (SFAF). He is also the creator of the stock market reputation concept.