Back
Publication of a new white paper for HR and business leaders: how to build sustainable employee engagement during and after the health crisis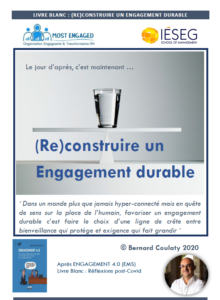 After his first book 'New Deal of Employee Engagement' (McGraw-Hill 2015), Bernard Coulaty, a former International Human Resources Director, today professor and expert in human resources and leadership at IÉSEG, has just published a new white paper on the topic of engagement.
In this new publication, entitled "(Re)building sustainable engagement @work", he looks at the impact of the current health crisis on business leaders and Human Resources Managers, proposing four priority projects to carry out in order to rebuild sustainable engagement/commitment in organizations and on teams.
The current health crisis is indicative of the whole of society's engagement. How can we make this engagement continue sustainably when there is total uncertainty, when the economic situation is deteriorating and the proximity between personal and professional life is complicated? According to this expert, this long-term commitment will enable the sustainable performance of organizations and employees' well-being.
In recent months, Human Resources and Operational Managers have been particularly exposed and engaged, firstly by managing the health crisis at the level of their organization, secondly by managing a variety of situations for their employees, and thirdly by preparing to face the economic and social consequences of this period of great uncertainty.
In his white paper, Bernard Coulaty, former International Human Resources Director and professor at IÉSEG, invites us to look back on what we have just experienced, to understand our actions and the shock of returning to work, and then to chart a path and new perspectives for organizations and their employees. According to him, "the (post-covid) future is now".
If this period has allowed for new types of solidarity to emerge, it has also led to the emergence of 'silos' within the population (the sick, employees on the front line, whether they be caregivers or those ensuring the country's continuity, confined collaborators working from home during the lockdown, those who are confined without a job, etc.). According to him, it is therefore essential for companies to take these realities into account, sharing these experiences, listening to the weak signals of discomfort that result from them, recreating a collective within the company, and finally adopting exemplary social management, because the potential for re-engaging individuals and teams will heavily rely on these factors.
Beyond this observation, the white paper proposes an in-depth analysis of the French model, which "oscillates between two extremes" regarding the approach to work: the choice between psychosocial risks or happiness at work. On the contrary, according to him, engagement is a coproduction between employees, teams, managers and the entire organization, whose role is key in showing the vision and, above all, in engaging all its stakeholders in a sustainable way.
Then, he identifies four priorities to reconstruct sustainable engagement in organizations and within teams:
Engagement: For Bernard Coulaty, caring about people is required in the context of the health crisis, but it is also a question of helping employees to learn and grow. It is therefore necessary to find a path, a ridgeline between protective care and challenging growth. The white paper provides a model covering five key drivers and eight profiles spanning from disengagement to over-engagement in order to foster self-engagement and employee empowerment, with the aim of encouraging collaborators' self-engagement and appropriation, thus supporting individual resilience, the search for meaning and purpose, and the integration of individual aspirations.
Leadership and management: He emphasizes that managers, who are the key stakeholders of team engagement, must give up on certain practices: micro-management, pressure and focus on daily issues, valuing performance and not the quality of the engagement, etc. Instead, they should develop an engaging leadership focusing on trust, feedback, autonomy, and especially giving meaning and purpose to the daily actions of individuals and teams.
Organizational development: If the manager is the central creator of employee engagement, Bernard Coulaty explains that organizations have to rethink the employee experience, eliminating irritants (complexity, sophisticated processes, barriers between departments, etc.), pampering precious moments (the collaborator's life cycle, integration, celebration of their success, development), animating a meaningful vision and project and a culture of learning. According to the author, "sustainable remote work" is now a vital activity in today's world, and it is imperative to redefine activities depending on their finality (need to focus, communication rituals, cooperation, service to clients, etc.).
Human capital and HR managers: He adds that Human Resources Managers, completely absorbed by the crisis, must address these new challenges in order to rebuild an HR value chain that creates and sustains engagement. This approach involves supporting collective resilience, a better recognition of 'invisible talents', more authentic employer branding, a less hedonic and a more 'learning' employee experience. According to Bernard Coulaty, the HR profession must also change, with less processes and more hands-on experience and field presence, less servitude and a more challenging attitude in relation to what already exists and to the stakeholders.
To conclude, the author explains that everything today leads to a better defense of the 'business case' of employee engagement as a tool of transformation. This includes the support for meaningful projects, the development of cooperation and internal agility, breaking down barriers, the need to invest in individual and collective resilience to ensure the organization's development in the face of uncertainty and the anxiety-producing atmosphere that is likely to last.
The white paper is available here : www.ieseg.fr/en/white-paper-rebuilding-sustainable-engagement-at-work/
Bernard Coulaty, Vice President Human Resources for over 30 years in France, Europe and Asia for large French multinational groups (Danone, Pernod Ricard), is a renowned expert in the strategies of employee engagement and HR transformation. Author of
New Deal of Employee Engagement
(McGraw-Hill 2015), adapted for France under the title 'ENGAGEMENT 4.0' (EMS 2018), he currently shares his expertise via his position as a professor, trainer and consultant. He teaches leadership and human resources management at IÉSEG School of Management.