Back
Discover the new book "Transforming your company by combining strategy and humanism – Dare to use the Yellow Brick Road method"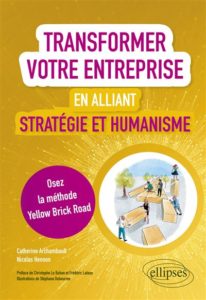 Companies and organisations around the world are evolving in an increasingly complex and systemic environment. Everything is now interrelated: human transformation, ecological transition, new extra-financial values, new business models and so on. We can no longer address one of these issues without dealing with the others. Employees, customers and partners expect something new and greater from managers, leaders and their companies.
This new book, co-authored (in French at the Editions Ellipses) by Nicolas HENNON, former Managing Director of Kiabi Monde and President of Acts & Facts, and Catherine ARCHAMBAULT, professor and researcher in strategy at IÉSEG School of Management, suggests new paths for leaders of companies of all sizes who wish to "combine strategy and humanism for a business transformation that feeds a fair and sustainable creation of value".
The authors propose three major steps (comprising a total of 8 bricks which need to be implemented) allowing modern companies to gain inspiration before embarking on their journey down the Yellow Brick Road:
Step 1 – build your own bricks – explains how modern companies are entering a new era, and how leaders need to shift their posture and act with their hearts, heads and guts when starting a journey towards new paradigms (bricks 1 and 2).
Step 2 – paving the way for employees – offers practical recommendations on how to create a new business environment that will create the conditions for trust, autonomy, audacity and commitment; so that everyone can take the Yellow Brick Road and dare to set the wheels in motion in their area of responsibility while following a common strategic course (bricks 3, 4 and 5).
Step 3 – Staying on track – offers some ideas on how business leaders can reconnect with their business, steer it and ensure the continuity of their strategic transformation along the Yellow Brick Road (bricks 6, 7 and 8).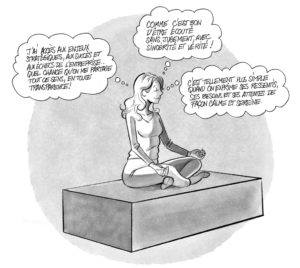 Full of concrete recommendations, practical tools and shared experiences, this book is both aspirational and operational. 'Transforming your company by combining strategy and humanism', with its preface signed by Frédéric LALOUX (Reinventing Organizations, 2015) and Christophe LE BUHAN (Les fondements humains du leadership), continues the work started by the aforementioned authors by entering the world of operationalization and concrete ways of becoming not just a liberated company, but also a liberating company.
For the authors, the book is "an invitation to today's managers to dare to build their own bricks," unique bricks that will allow them to start their own journey down the amazing Yellow Brick Road.
"Strategy is not something an organisation owns, but rather something an organisation does and experiences", explain the two authors. "Like the characters in The Wizard of Oz, we believe that every employee embarks on a true journey of transformation when they set out along the Yellow Brick Road. By inviting employees along the Yellow Brick Road, leaders offer everyone the opportunity to aspire to greater autonomy, responsibility and commitment to strategic goals".
Catherine ARCHAMBAULT and Nicolas HENNON draw, in particular, on the story of Kiabi, a company that embarked on the path of strategic renewal between 2010 and 2019, but also on reflections and testimonies from transformations in other organisations and companies, and theoretical studies in the field of strategy and management. They tell the story of how the employees at Kiabi, known as 'Kiabers', have successfully led a strategic renewal towards greater value creation by shaping an environment of subsidiarity, freedom-responsibility and benevolence-expectation.
More information on the book is available on the Editions Ellipses website.
* This new book entitled "Transformer votre entreprise en alliant stratégie et humanisme – Osez la méthode "Yellow Brick Road" (Éditions Ellipses) has been published in French but more information on the book is available from the authors.
---
ABOUT THE AUTORS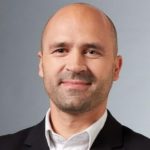 Nicolas HENNON is the former Managing Director of Kiabi Monde. He is now involved in corporate activities related to Man and the planet and is also the co-founder of Acts and Facts, an environmental association. With more than 20 years of experience in business, Nicolas is passionate about everything related to human, organisational and environmental transformation.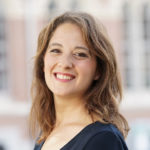 Catherine ARCHAMBAULT is a professor-researcher in strategy at IÉSEG. Originally from Canada, she began a new adventure in France at the end of 2015 when she undertook a doctorate in management sciences. This focuses on Kiabi and its strategic renewal process and has allowed her to meet Nicolas. Thanks to his support, Catherine will be able to better theorize how an established organisation succeeds in implementing strategic organisational modes centred on the human. Indeed, she will discover the mechanisms by which a strategic process becomes embodied by each and every one of us, on a daily basis.