UNLEASHING THE ENTREPRENEURIAL GENERATION
The Entrepreneurship Addendum consists of one semester to be taken after completion of the course work for a Master of Science degree.
Consisting of five courses and one collaborative project, this semester is designed to be an immersive experience in entrepreneurship. With the help of cutting-edge materials and pedagogy, students learn about entrepreneurship in both a theoretical and practical sense. At the end of the semester, they will have experienced key elements of the entrepreneurial process, including ideation, customer development, and market validation. These skills are necessary for opening a startup or driving change in any organization.

Students with a 3-year undergraduate degree upon admission to IÉSEG will also earn an additional diploma: a State-recognized 'Grade de Master' ("Diplôme d'Études Spécialisées en Management International")*.
*Not applicable to the Master of Science (MSc) in Fashion Management, which is co-delivered with the Istituto Marangoni in Paris, the MSc in Entrepreneurship and Innovation co-delivered with the Loughborough University London, and the MSc in International Business and Technology.
OBJECTIVES
To understand the importance of entrepreneurial management in organizations, particularly small and new ventures
To learn to evaluate the factors affecting the success of new-venture creation and the innovation process
To use action-based learning to develop insight into the complexity of the entrepreneurial and innovation process, analyzing and evaluating problems, and responding to challenges in real time
To gain experience with the unique qualities of the entrepreneurial decision making process
To provide students with the skills of advanced networking and teamwork in order to compete in a rapidly changing business environment
PROGRAM STRUCTURE
Duration: one semester
September-December
Credits: 30 ECTS
Location: Paris-La-Défense
Additional cost: €4,500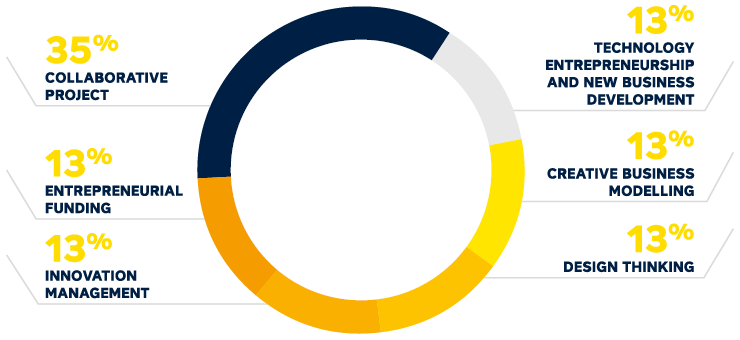 TECHNOLOGY ENTREPRENEURSHIP AND NEW BUSINESS DEVELOPMENT
13%
The aim of this module is to introduce students to the field of (technology) entrepreneurship. On the one hand, this course provides a bird's eye view of the entrepreneurial process in which (technological) opportunities are transformed into value-creating economic activities. On the other, it equips students with a profound understanding of the entrepreneurial decision-making process as well as the role, analytics, and process of operational business-plan writing.
CREATIVE BUSINESS MODELLING
13%
This course is intended as a 'hands-on' practical module on business models. It offers students an opportunity to develop and apply specific entrepreneurial skills and mindset that are important for becoming an entrepreneur and/or joining an incubator program.
DESIGN THINKING
13%
This course aims to equip students with an understanding of the main concepts, methods, and techniques of design thinking. This is an iterative and problem-solving process of discovery, ideation, and experimentation that employs design-based techniques to gain insight and yield innovative solutions for any type of organizational or business challenge.
It is a new efficient approach for dealing with the accelerating pressures for growth and innovation faced by so many organizations today. Design thinking techniques learned in this course are critical for idea generation, problem solving, new product development, prototyping, and management of innovation projects by companies in every industry.
INNOVATION MANAGEMENT
13%
This course aims to equip students with an understanding of the main issues in the adoption and diffusion of innovation, an awareness of the key steps in new products and services development, as well as an appreciation of the relevant skills and resources required to effectively manage innovation processes at both strategic and operational levels.
The course introduces students to a variety of approaches based on real-world examples and experiences of leading international innovative firms.
ENTREPRENEURIAL FUNDING
13%
The primary objective of this course is to introduce theories, knowledge, and tools for the financing of new and growing ventures.
Successful venture growth requires the ability to evaluate ongoing financial performance and prepare financial plans to anticipate funding needs and build venture value. A second objective is to become familiar with the importance of venture capital for entrepreneurs, and how venture capitalists and entrepreneurs can build effective relationships with each other.
COLLABORATIVE PROJECT
35%
The aim of this module is to give students a real-world entrepreneurial experience. Throughout the semester, groups of students will have the chance to explore the world of startups first-hand by shadowing and/or interviewing entrepreneurs, providing consulting services to startups to address real-life issues, or creating their own startup.
Participants are expected to acquire entrepreneurial knowledge and behaviors that support creative solutions and new value development. Moreover, by undertaking this module, students will strengthen their cooperative and collaborative working skills and competencies, whilst raising awareness and appreciation of intercultural and interdisciplinary diversity and differences.