Admission Master of Science in International Business and Technology
Career opportunities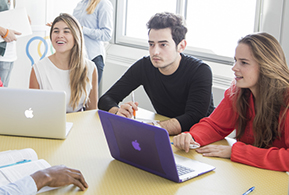 The multi-sector and multidisciplinary approach provides our graduates access to a wide range of careers.
Depending on their initial STEM academic background, they may choose very different sectors (Mechanical or Chemical industries, Electrical and Electronic, Energy, Environmental, Transportation, Construction, IT and Software, etc.) but they are all prepared to address the complex challenges that lie at the crossroads of technology and business.
Graduates can take on top positions that require management, business and intercultural skills. Studying business and project management provides them with the processes, tools and techniques to enhance their planning and delivery of projects.
Not only are they trained to manage industrial, technology and business projects successfully but they are also encouraged to lead and inspire their teams and organizations.