Back
ACT – an association with an optimistic and realistic vision of environmental issues
Every year, IÉSEG students show a growing interest in all topics related to CSR and therefore get more and more involved in environmental and societal causes, particularly through the School's associations.
This is the case for Alicia CHAILLOU and Manon CHARLES, both third-year students of IÉSEG's Grande École program, who joined the association "ACT Lille" (Actors for Change and Transition) in February 2020. "We wanted to get involved in a cause that was meaningful and in line with our values and convictions" they explain.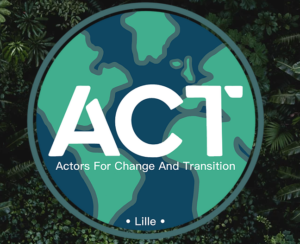 ACT, founded in 2019 in Lille and on the Paris- La Défense campus, aims to make accessible to all students the transition to a more sustainable lifestyle by providing them with the necessary tools to make it happen. The association works with other student associations in order to reach as many students as possible, and to offer various events such as film screenings, conferences with companies from the social and solidarity economy, vegetarian brunches, holding of a booth during IÉSEG's CSR DAY… a whole lot of initiatives to raise awareness of environmental issues in a recreational way.
« We do not limit ourselves to the people who are already involved in sustainable development, we seek to reach all students, whether they are new to this topic or not. We do not take a moralizing approach but rather seek to offer an optimistic and realistic vision of environmental issues." ACT also offers training on recycling to student associations, in partnership with the Student Federation.
The association – a learning experience
Within the association, Alicia started as manager of the Audit department, and she recently became president of the association. As for Manon, she started in the communication department and then took on the position of communication manager. "I had the opportunity to evolve within the association and, by taking on the position of communication manager, I have obtained more responsibilities and a 360° vision over all the projects in progress."
For Alicia, « switching from head of the Audit department to the position of President entails an additional workload, but I am learning a lot. This allows me to explore the managerial side of things, especially when running meetings, all the while contributing to a great cause that has a positive impact on our community."
By taking an active part in the association's projects, the two students not only contribute to the protection of the environment and the well-being of students, but they also get better prepared for the professional life that awaits them. Very committed to their values and convictions, Manon and Alicia wish to work for a company that shares, at least, the same values as theirs.
A "Little Green Guide" for students
Among its latest achievements, ACT Lille has created a "Little Green Guide for Students in Lille" (in French for the moment) in a website format. The aim of this guide is to serve as a "survival kit" for students who have just joined IÉSEG or who are new to Lille, in order to guide them in adopting a more sustainable way of life and consumption, while respecting their budget. The guide offers a global approach listing useful addresses, tips, recipes, simple actions… related to nine different themes: recycling, food, fashion, decoration, cosmetics & personal care, transportation, DIY, organization, leisure.