It is our ongoing belief that the quality of teaching is crucial, so that students can flourish both personally and professionally.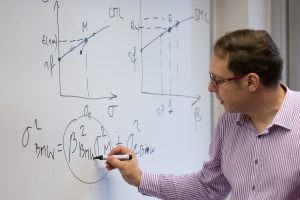 Our strengths are derived from the continual improvement of our teaching methods, and our research, so that everyone at the School can be offered the highest standard of education.
IÉSEG has an international faculty (including 144 permanent professors) boasting solid research competences in all management fields. 100% of our permanent professors hold a PhD and they regularly publish articles in the top international scientific journals.
Job offers for academic positions
Meet some of the IÉSEG professors (video) :
Pratik GOEL, Audit & Control Professor
Joao CUNHA, Management of Information Systems Professor