IÉSEG School of Management is one of the top Business Schools in France, ranked 6th in France and 26th overall in the Financial Times Masters in Management ranking.
IÉSEG, founded in 1964, is a non-profit association (law 1901), member of the Université Catholique de Lille, of the Conférence des Grandes Écoles and of the FESIC (Federation of Higher Education Institutions of Collective Interest).
The governance of IÉSEG is based on three main bodies:
The Board of Directors, composed of personalities from the socio-economic world, has an essential supervisory function and defines the School's strategy and objectives, in conjunction with the Management Board.
The Management Board ensures the School's sustainability and the implementation of the strategy within the various departments and services.
Finally, the International Advisory Board, composed of personalities from the socio-economic and academic worlds, brings their international expertise to the School's strategy and development.
The leading business school recognized in France and internationally
IÉSEG is part of the very select club of French Grandes Écoles.
It is recognized by the French Ministry of Higher Education and Research as an Institution and its programs have the Grade de licence (Bachelor in International Business) or a Grade de master (Grande École Program and Diploma of Specialized Studies in International Management – DESMI).
Since 1997, the School has also been a member of the Conférence des Grandes Écoles (CGE), which currently includes 38 other management schools.
In terms of international recognition, since 2016, IÉSEG has held the "Triple Crown" of international accreditations (less than 1% worldwide): EQUIS, AACSB and AMBA.
Learn more about Labels and Accreditations
IÉSEG's programs are ranked in the main French and international rankings.
These results confirm the relevance of the School's strategic model: excellence in both cutting-edge research and teaching, a constantly evolving pedagogy, a strong link with the socio-economic world to meet its constantly changing needs, and above all, student and graduate satisfaction.
One School, Two Campuses
By joining IÉSEG, students have the opportunity to study either on the School's historic campus in Lille, one of France's largest university cities, or on the Paris-La Défense campus, located in the largest business center in Europe.
By offering flexible and functional learning and living spaces, equipped with the latest technologies and immersive teaching solutions, both physical and remote, IÉSEG is continually improving the quality of its infrastructure to provide a quality experience to its students and to encourage their commitment to learning.
Discover the
Lille Campus Discover the Paris-La Défense Campus
A Vision and strong, unifying values
IÉSEG's Vision, more relevant than ever at a time when economic, social, societal and environmental challenges are reaching unprecedented levels, was reaffirmed by all of its stakeholders during the definition of its new 2022-2027 strategic plan.
By empowering changemakers for a better society, IÉSEG turns its students into fulfilled, dynamic professionals who are above all recognized for their success; leaders who will know how to change the world of tomorrow thanks to a global and empirical vision, and by relying on new knowledge resulting from cutting-edge research.
IÉSEG is also a committed community of students, graduates, professors and administrative teams, and partners from the socio-economic world, around common and unifying values.
Achievement, Responsibility, Integrity, Solidarity, Commitment: these values, summarized by the acronym ARISE, reflect the School's determination to lead and integrate the expectations of its stakeholders in the daily life of the School. IÉSEG constantly encourages its students, its administrative and academic teams, but also its entire ecosystem of graduates and partners to embody these values.
Why choose IÉSEG?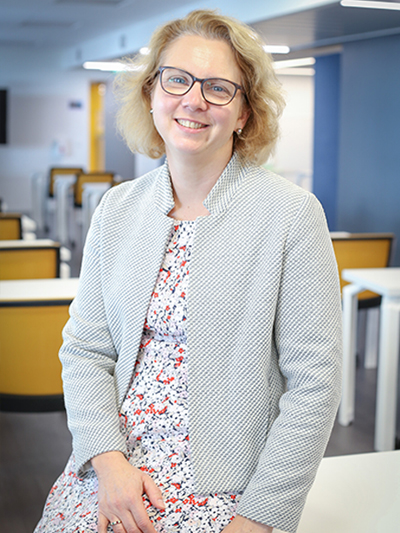 Caroline ROUSSEL
"By joining IÉSEG, whatever the program (Bachelor, Grande École, Specialized Master or Executive program), you will have a wonderful learning experience that will make you a responsible leader of change. Based on cutting-edge research, our faculty, recognized around the world for its research expertise and the quality of its teaching, will teach you to take into account all the economic, social, societal, technological and ethics dimensions to make the best choice.

With its extensive network of partner universities around the world, the experience of our students is also fully international and multicultural. Indeed, to succeed in your professional career, we at IÉSEG are convinced that interdisciplinarity, personal development and behavioral skills are just as essential as specific technical knowledge and hard skills.

By coming to IÉSEG, you will leave transformed! You will become accomplished leaders, able to give meaning to your institution's strategy and to engage your intercultural teams in a shared collective vision.

Together, let's commit to becoming active and leading changemakers and acting on a daily basis for a better society!"