La Défense – Europe's largest purpose-built business district
With more than 2 million inhabitants and different waves of migration, Paris is a cosmopolitan and multicultural city. Each neighborhood is full of small restaurants and bars, stores where you can find original pieces.
As France's capital, Paris is a major source of culture, history, fashion, food, and more. The city's rich cultural and historical base, coupled with its tendency to transform and develop, makes Paris an innovative and dynamic city.
Paris, as one of the most influential economic capitals in the world, is naturally the economic capital of France and its first stock exchange location. With more than 130 000 companies and more than 1 300 000 employees, Paris is the first employment in France.
Study in Europe's Main Business Hub
Located within 30 minutes by public transportation from the center of Paris, La Défense attracts both large global groups as well as SMEs and start-ups.
In addition to its 3 million square meters of office facilities, La Défense is also home to 25,000 residents, 45,000 students, an open-air museum and a shopping center. The La Défense location of IÉSEG's Paris campus is a strategic plus. Established primarily to strengthen IÉSEG's links with French and international companies, it has enhanced the institution's international reputation and visibility. It also allows its students to be at the heart of the European business world from the beginning of their education.
La Défense is the 4th most attractive business district in the world with 3,600 companies, including 1,500 headquarters

180,000 employees working at La Défense

A pleasant working area according to 93% of those surveyed (Source: BVA barometer results, Paris La Défense, December 2019)
A modern campus at the center of a business environment
3 buildings on the campus "La Défense": "Grande Arche", "Promenade de l'Arche" and "Collines de l'Arche" buildings

More than 3,000 students

A wide variety of modern and functional facilities, including lecture halls, classrooms, multimedia rooms, trading rooms, a library, two cafeterias, meeting rooms, etc.

Access to IÉSEG's own library, but also to university and online libraries as well

Facilities for clubs and associations
Discover the campus in pictures
Overview of the IÉSEG campuses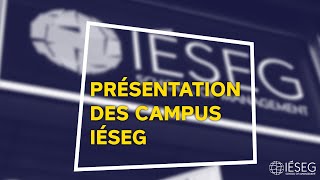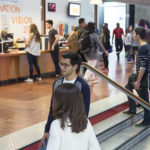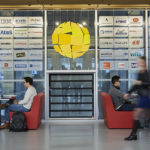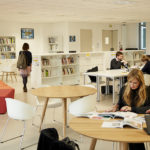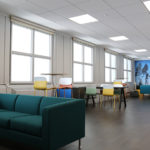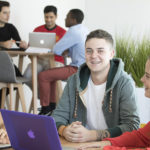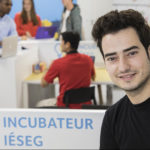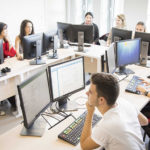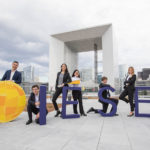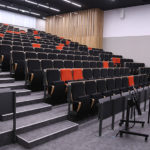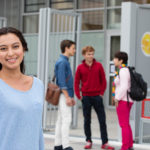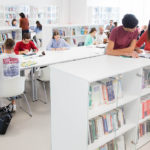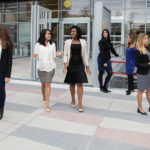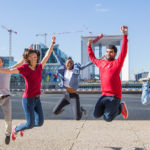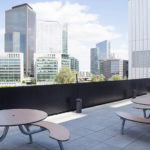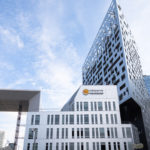 Visit the Grande Arche building Visit the Promenade de l'Arche building
The Paris Campus Library
KL'Hub
The KL'Hub or Knowledge Learning HUB is open to the entire IÉSEG community where everyone can come at his or her own pace to work individually in a quiet environment or in small groups, to get information and to learn from documentation professionals, to search in the numerous paper and electronic resources on site, and via partner documentation networks, for all the academic documents needed for courses, projects, reports, and theses.
"Bibliothèque Numérique en Réseau" (BNR)
BNR is a numerical source of documentation. From its website, you can have access to databases. You can find a lot of academic papers and newspapers in each management's area.
Practical Information
Housing
We will help you with the booking. Your contact for housing is housingparis@ieseg.fr.
Please find below a list of on- and off-campus housing options in Paris:
> Private residences
In some cases, the landlord / agency may ask for a "garant" living in France (relative guarantying the payment of the rent in case you can't pay anymore).
IÉSEG cannot be your guarantor. The private residences listed below currently ask you to contract Garantme to be your guarantor:
> YouFirst Campus Paris Grande Arche
> YouFirst Campus Paris La Defense
> Estudines Nanterre
> Estudines Grande Arche
> Résidence Pythagore Grande Arche
> The Student Hotel Paris La Defense
> Private Landlords
We have a list of private landlords with whom we are used to work.
If you are interested in this type of accommodation, please send an email to housingparis@ieseg.fr.
Note that IÉSEG cannot be your guarantor.
> Useful websites for other lodging (room sharing, ads from private owners etc.)
In case your applications with the previous options have not been successful, you may look for apartment sharing or individual rooms on the following websites:
> topannonces.fr
> craigslist.com
> recherche-colocation.com
> paruvendu.fr
> logement.studyrama.com
> Emergency Solution
In case you have no confirmed housing at the end of June for fall semester or at the end of November for spring semester, we highly recommend you to book a minimum of 10 days in one of the following options. You will cancel these bookings once you have secured housing for the semester/year.
> Youth hostel (Auberge de jeunesse)
> HostelBookers – Paris
> Hostelworld
> Booking – Paris
> ALJT
> CLJT
Below are a few hints regarding housing:
> Please avoid arriving in Paris on a Sunday as agencies and landlords are not available. Some agencies are also closed on Saturdays.
> Do not hesitate to check the location of an offer by googling it (as a reminder, IÉSEG is located 1 Parvis de La Défense 92044 Paris La Défense cedex).
> Your accommodation must be booked between June 01 and June 30 for the first semester (August-December) and between November 15 and December 15 for the second semester (January-June).
> Household Insurance
You will need to have a "household insurance" before you arrive in France because without it, you will not be able to get the key of your flat.
Please contact us: we will help you getting one.
Important Information for all Housing:
> Please note that it can be difficult to find housing quickly on arrival in September or January, so we greatly advise you to find housing prior to your arrival, and to apply for accommodation as soon as you have received your acceptance letter. Proving you have a confirmed housing in France will help some of you getting your student visa (mandatory condition). Securing housing before leaving will also contribute to help you enjoy the Orientation Seminar and your first classes without stress.
> Please inform housingparis@ieseg.fr as soon as you have a confirmed housing arrangement.
We will always help you to find a solution! So please, do not cancel your stay in France only because you did not secure housing before arriving.
Dining Services
> IÉSEG has two cafeterias on the Paris campus (breakfast formula, lunch formula, fruit, snacks, cold and hot drinks, etc.).
> As a student, you also have access to the university restaurants located in all Parisian neighborhoods.
> There are also other sandwich and catering shops in the campus neighborhood.
You will find all the practical information on student catering on etudiants.gouv.fr.
Health
The French Health Care system (Social Security) is called la "Sécurité Sociale". It reimburses part of your expenses paid out for medical care and prescriptions.