Bachelor in Management and Tech Design
Bachelor in Management and Tech Design
The Bachelor in Management and Tech Design is made for students who are eager to thrive as managers in the tech world. Through a balance of theory, learning by doing, teamwork and professional mentoring, they will become able to lead digital and technical projects under strong business constraints.
Through theoretical and applied courses, the Bachelor in Management and Tech Design provides students with a solid understanding of the tech business environment. The acquisition of an excellent and real-life grounded foundation in the disciplines of management and tech design is an asset for entering the professional sphere with confidence and serenity.
In partnership with:

Director's Foreword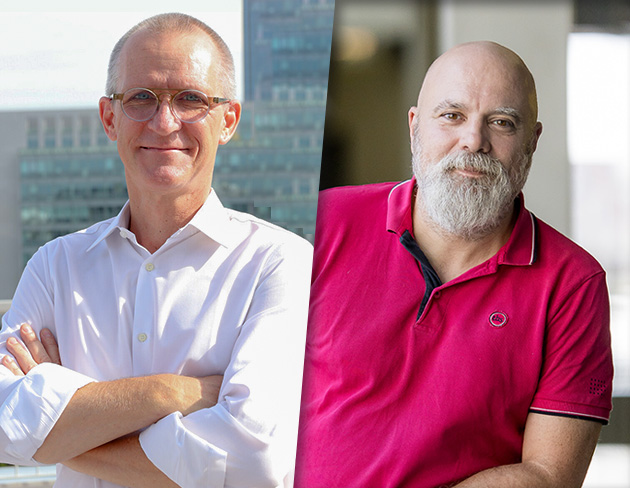 Emmanuel DAUPHINÉ – IÉSEG & Philippe BLANCHET – RUBIKA
The Bachelor in Management and Tech Design gives students the best of both worlds, so that they constantly adapt and thrive in a business environment driven by fast-paced technology.
Key Program Advantages
A comprehensive education based on four key pillars: in-depth learning of management and tech design fundamentals, tutoring by working professionals, personal development at the core of the training and a comprehensive Career Program dedicated to professional development.
Renowned international faculty with high-level academic achievements, cutting-edge research and recognized professional expertise.
A minimum of 3 internships (at least 7 months in total) enabling students to put their learning into practice, gain experience in the professional world and build their professional network.
Three yearly capstone projects to apply and develop the knowledge and skills acquired to a real-life business situation/venture.
The opportunity to study on three different campuses and live in two different countries (France and Canada).
A program co-designed, co-taught and co-sponsored with Rubika
About RUBIKA
Founded in 1988, RUBIKA is a school specialized in Video Games, 2D/3D Animation and Design. Located on 2 campuses in Valenciennes (France), Montreal (Canada), RUBIKA trains each year more than 1,300 students who are determined to turn their passion into a profession.
RUBIKA Key Figures
> Accreditations and Rankings
Top 10 Best Animation Schools in the World
(Animation Career Review – 2022)
1st Video Game School
(Figaro Étudiant, since 2015)
800+ awards
in 35 years
> Students and Alumni
1,200 current students
5,000 graduates
> Partners
30+ partner universities
300+ partner companies
100+ professional speakers
Career opportunities
This program is a good fit if you are interested in working as, for example:
Product Owner
Project Manager
Head of Digital Project
Release Manager, etc.
A program offered on IÉSEG and Rubika Campuses
IÉSEG's Lille Campus
IÉSEG's Lille campus features three buildings (with a total of 28,000 m2) located in central Lille. Students studying on this campus who enjoy a wide variety of modern and functional facilities, including immersive hybrid classrooms, meeting rooms, computer rooms, trading rooms, etc. As part of the Université Catholique de Lille, in a neighborhood hosting 38,500 students, IÉSEG students have access to IÉSEG's own library, but also to other university and online libraries.
In addition, the Lille campus is undergoing a renovation and extension project. The objective of this project, inspired by the input and work of the School's community (staff and students), is to create a campus of international standing, offering students a unique intercultural learning experience.
Rubika's Valenciennes Campus
Since 2015, the Rubika school has been located in Valenciennes (50 km from Lille) at the heart of the Serre Numérique, a center of excellence dedicated to image and digital creation. Each year, the School welcomes more than 900 students to its video game, animation, and design courses. The campus brings together workspaces, companies, research laboratories, and technological equipment: a 4K 3D auditorium, a film studio, a virtual reality space, a photo studio, a render farm, a powerwall, a fablab, design workshops, etc.
Each year, Rubika invests 1 million euros in the purchase of computer equipment (computers, consoles, etc.), the renewal of software licenses, or the acquisition of new equipment. Students have a dedicated personal computer on site. With more than 17,000 m2 of infrastructure, RUBIKA provides students with an optimal working environment, in keeping with the high degree of professionalism.
Rubika's Montreal Campus, Canada
The Rubika Montreal campus is strategically located in Montreal's creative hub, offering state-of-the-art facilities for an inspiring learning environment. Close proximity to industry studios provides valuable opportunities for concrete experience. The vibrant student life includes diverse activities and clubs, fostering a strong sense of community.
Meet with us
All year round, IÉSEG is present at many events in France and abroad: fairs, open days, live events, etc. Discover our next events and don't hesitate to come and meet us! We would be happy to meet with you on this occasion.
Meet with us
General contact
Florence DERBAY
Contest Manager - RUBIKA