2015 IÉSEG/LSE/MBS Conference
29 June 2015
The Role of Accounting Information in Debt Markets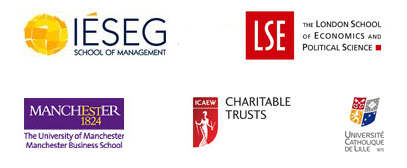 IÉSEG School of Management
Socle de la Grande Arche
1 Parvis de La Défense
92044 Paris La Défense
This conference is the 9th edition in a series of annual conferences initiated by London School of Economics (LSE) and Manchester Business School (MBS). It seeks to provide a forum for academics, policy makers and practitioners from around the world to debate topical issues in accounting research, focusing in particular on the role of accounting information in the capital markets. The 2015 conference is held in Paris, France and is co-organized by IESEG School of Management and MBS.
Since its inception in 2007, this conference has grown to become an important annual event in the diaries of many of the participants. This year's conference theme is on: "The role of accounting information in debt markets". Prior academic work has largely focused on the impact of accounting information for equity markets. However, both private and public debt markets also play an important part of firms' external financing. Academics, practitioners as well as policy makers will benefit from a further understanding of how financial statement information as well as regulations and accounting standards influence the interaction between firms and both public and private lenders.
The 2015 conference is co-organized by:
Christof Beuselinck (Associate Professor of Audit and Control, IÉSEG School of Management)
Edward Lee (Manchester Business School, Professor of Accounting and Finance)
The conference program is composed of presentations and discussions by leading academics and practitioners. The conference aims to offer both a high-quality program and ample opportunity for informal interaction.
Please note that the conference is on invitation only. Interested participants that are not on the short list of invitations sent out in February 2015 may contact the organizers on the email address below :
ilm2015@ieseg.fr