Back
2021 PIR (Positive Impact Rating): IÉSEG, one of the 24 "Transforming Schools" worldwide, moves up one category
On the occasion of the 2021 Virtual PRME Global Forum, the results of the 2nd edition of the PIR (Positive Impact Rating) were published. For the second time, students worldwide assessed their business schools on how they perceive their positive impact in the world. This impact goes beyond the contribution to business and the economy; it addresses the need for their positive impact on society.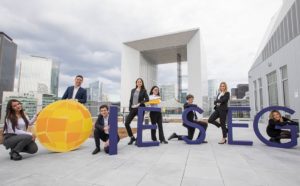 Students thus assessed how their school addresses societal and sustainable challenges and prepares its students to become responsible business leaders. The rating survey asks students 20 questions in seven relevant impact dimensions that sit within three areas: Energizing, Educating, and Engaging. The overall PIR score of the business school is used to position the schools across five levels. The different levels refer to the development stage of the business school in terms of impact, rating it by a certain level of achievement.
Once again, IÉSEG School of Management was recognized for its social impact and sustainability achievements. IÉSEG was one of 47 business schools from 21 countries worldwide that took part in the rating this year and reinforced its position among the world's TOP 30 by moving up one level (only 9 Business Schools made it this year), making it a "Transforming School" within the PIR.
Maria CASTILLO, CSR Manager at IÉSEG School of Management, testifies: "We are very happy with the result of the PIR, which is a fair recognition of all the work done in the past years to strengthen the integration of sustainability and impact in everything we do at IESEG.

In the "Energizing" category, CSR is a strong part of the IÉSEG culture and embedded in its governance via the Sustainability Steering Committee. Our Vision of 'empowering changemakers for a better society' is really at the core of who we are and the culture of responsibility and impact that we share at IÉSEG.

Regarding the 'Educating' dimension of the Positive Impact Rating, the School has always had a strong focus on integrating sustainability, CSR, and ethics into our programs. In the past year, we also modified and boosted our mandatory Master-level sustainability course to make it a 6 ECTS course on Change Management for Sustainability, which teaches students how -concretely- can organizations evolve to be more sustainable. The CSR Consulting Project that our 3rd year students conduct with companies has also grown in size and impact. Last year, our students worked on the sustainability challenges of 17 national and international companies. This project provides our students with a hands-on and real-life learning experience that is very valuable.

Finally, one of the key reasons as to why we progressed into the 'Transforming Schools' category this year is our student engagement. We are lucky to have very motivated and engaged students at IÉSEG. As part of our Sustainability strategy, we have made it a priority to build stronger links with our students and student associations to have greater reach and impact. We are working, among others, with ACT, our ecological association to put in place a vegetable garden at IÉSEG. We help Enactus to set up a program to mentor refugees, and we support IÉSEG's Junio-Entreprise in the organization of their CSR Challenge. The 'Responsible Leaders' program which was launched 3 years ago is really successful, with our students working hard to develop with our Teaching & Learning Department a new Sustainability Certificate and managing the TakeCare website which was set up as a response to Covid19. Giving students the space, the voice, and the means to take action is essential and we will continue to collaborate with them to develop more initiatives."
Katrin MUFF, President of the Positive Impact Rating Association, said: "PIR is designed as a tool to improve and transform business education. It enables schools to understand what a positive impact for society is, according to their students. The PIR highlights the potential for improvement, even for leading schools."
*PRME: The 6 Principles for Responsible Management Education (PRME) is a United Nations-supported initiative founded in 2007
** More information about the Positive Impact Rating here