Back
Real life data science challenge for the IÉSEG MSc in Big Data Analytics for Business students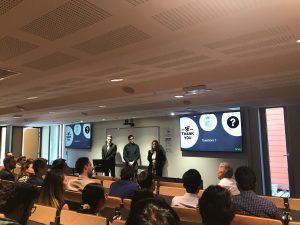 The participants of the Master of Science in Big Data Analytics for Business have recently taken part in the program's annual Big Data Analytics hackathon organized this year in collaboration with four companies: Oney; Mealhero; Delaware Consulting; and Crédit Agricole Nord de France.
The goal was to provide participants with the opportunity to work one of four real business issues, identified by the companies, using the various techniques and methods that they have learned throughout their entire program. The students were split into small groups from January and had the opportunity to work on one of the topics put forward by the companies, which include; developing a decision support system for efficient food delivery; developing a strategy for predicting prices in the French electricity market; or untangling drivers of success for targeted calling; and predicting appetite for product subscription.
The winning teams were last week (24th May) invited to present their solutions in front of representatives of the companies.
Academic Director of the program Dr. Kristof Coussement, noted: "The hackathon is one of the highlights in the program for our participants, as it enables them to use much of the data science skills they have developed during the last months and apply them to real-life data. Working in teams they are able to really discover the business relevance of the data science tools they are learning to master."
Testimonials:
Angelo Cario, Lead Data Scientist at Crédit Agricole Nord de France, noted: "Over the past two years, we have had the privilege of being able to carry out two hackathons with IÉSEG, which have enabled us to respond to the business challenges of the Nord De France Regional Bank. This involved either working on: voluminous data to detect the highlights of our customers' lives; or on unstructured data such as verbatim from customer satisfaction surveys to define a correlation with the agency's business.
"The students were keen to meet these two challenges in a Big Data environment and to offer us operational solutions that can be implemented in our CRM (Customer Relationship Management) tool. Finally, this experience for Crédit Agricole's Big Data team is very enriching because it allows us to be in direct contact with future "Data Scientists" and to enrich our knowledge of the most recent Big Data methodologies and technologies."
Jatan Dewgun, a student on the program and participant of the hackathon, noted that this event provided "a real life business case which allows you to bring everything you have learnt over the course of the program to the table in a final friendly competition with your peers. From cleaning the data to going way and beyond in answering business questions which would allow real companies to gain real value through a heavy dose of predictive analytics and a nice hint of visualisation techniques like the creation of interactive dashboards, the Hackathon has surely been a great hands-on learning experience. The scenarios we were exposed to allowed us to not only master the techniques we saw during the programme but also learn new skillsets (for example, the Cloud platform and Data Pipelining) which would further facilitate our journey as budding Data Analysts/Scientists/Engineers."