Back
Fifth edition of the "How I Met Your Start-Up" public speaking contest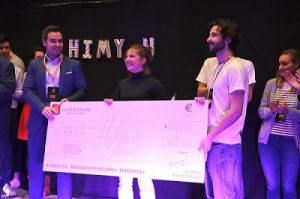 The association How I met Your Start Up* organized the fifth edition of its public speaking contest on November 19 2019. This contest brings together students from the city of Lille, start-ups and large companies.
After the pre-selection phase, the start-ups selected six students to represent them in front of a jury of professionals and an auditorium of approximately 600 people at the Université Catholique de Lille. Candidates had to pitch their start-up in an original, impactful and eloquent way.
Le Frigo, represented by Alix Vaillant (IÉSEG)
Semandtik,  represented by Adnaan Patel (Student at Edhec)
AOS, represented by Bertille Loiselet (IÉSEG)
Tripori, represented by Côme Tetard (IÉSEG)
ShareAthlon, represented by Pierre-Yves Vaujour (IÉSEG)
Benenova, represented by Henri Hecquet (IÉSEG)
The jury, presided by Marc-Philippe Daubresse (Senator in the North department), reached its decision after some deliberation.
In first place was Alix Vaillant, who won a week of immersion at the Boulanger headquarters. Her start-up, Le Frigo, was awarded a €2,000 check from the Caisse d'Epargne Hauts de France, partner of the IÉSEG Incubator. Pierre Yves Vaujour came in second and Henri Hecquet came in third. The winners received different rewards for the grand finale, and their start-ups will benefit from support from La Quincaillerie, a development agency for entrepreneurs (cofounded by Hugues Marchal from IÉSEG).
Congratulations to the winners and to all of the candidates!
* HIMYSU is a student association of IÉSEG, which aims to organize conferences, meetings between students and companies as well as the public speaking contest