IÉSEG is dedicated to cultivating students' career readiness to ensure the best possible transition from student life to professional life.
The IÉSEG Career Center serves as a guiding force, providing students with support to develop their career goals in alignment with their skills, their aspirations and the dynamic socio-economic reality of the market. This unique, blended approach equips the students with the necessary personal and professional skills that employers require, ensuring they are well prepared and positioned to stay one step ahead in today's evolutive job market.
Career Program
Building on its knowledge and strong connections with the corporate world, IÉSEG is proud to provide students with a comprehensive employability program: the Career Program.
The integrated approach to employability ensures that all students are well prepared for their post-study career through personalized support and a credit-providing collective course, as part of the academic curriculum.
The Career Center also provides access to many tools and resources helping students throughout their career path and enhancing their adaptation capabilities for lifelong learning.
Are IÉSEG students ready to seize the reins, embrace their potential and embark on a fulfilling career journey?
IÉSEG emphasize the importance for the students of taking ownership of their career path and being the pilot of their own journey. The School firmly believes in EMPOWERING their students to pursue their career aspirations and unlock their full potential.
The Career Program is designed to INSPIRE, TRANSFORM, and CONNECT students to their dream career!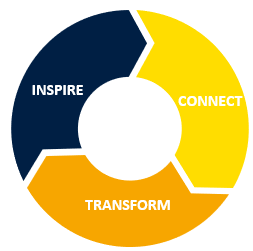 > INSPIRE: DISCOVER YOURSELF
"Achieve a deeper understanding of your interests, skills, and what motivates you professionally."
The collective Career Program helps students get to know themselves better, empowering them to make informed career choices, in line with their aspirations and their strengths. Students learn how to confidently present themselves and their skills to potential employers, showcasing their abilities in a professional and engaging manner, and create a roadmap to success.
> CONNECT: BUILD YOUR PERSONAL BRAND
The IÉSEG Career Program equips students with tools to develop their personal brand, including networking techniques, personal branding strategies and they also have the chance to gain exposure and interact with the corporate world (networking events, corporate talks, business games in class, job fairs) building up their own network of valuable connections that can open doors to new opportunities.
As an integral component of their academic journey, students have to complete internships, other opportunities that provide them with a real-world exposure and hands-on learning. Through all these experiences, they have the chance to apply their personal and academic skills in professional settings, gain practical experience and build valuable connections in their industry of interest.
> TRANSFORM: ENHANCE YOUR COMPETITIVE EDGE
Curiosity and responsibility are key to career growth.
The Career Program help students to connect with industry professionals and alumni who can share their experiences and provide valuable insights, the opportunity for them to learn from IÉSEG graduates and assess their options. The program gives the School's students the opportunity to enhance their personal and professional skills through mock interviews, personality assessments, online psychometric tests, giving them the confidence to excel in their entry on the job market.
The Career Program also includes individual face-to-face meetings with career advisors who are experts in their industries, providing students personalized guidance to help them navigate the job market, explore different career paths, and develop strategies to achieve their goals.
Career Support 2022/2023 Key Figures:
more than

4,600

hours of collective courses
more than

2,300

individual appointment meetings

69

career advisors

2

Career Centers, Lille and Paris