The Media section is composed of several student associations, who communicate about different events and activities organized by the School's associations.
Cartel de la Com'
The Cartel de la Com' is a communications agency within IÉSEG.
This responds to students' and associations' requests for free: logos, banners, posters, etc. But that's not all!
The Cartel also offers workshops to train students to use software such as Photoshop, so that they can create their own communication documents!
Finally, the Cartel organizes conferences about the vast field of communications to allow interested students to learn more about this subject.
Rec
This Association aims to promote IÉSEG associations through photography and videos.
It highlights mainly the School's news, as well as its students, via the School's TV news and newspaper.
It follows student, club and associative life, sharing good deals, advice and past experiences with students. The association offers professional photo shoots (CV picture) or group photo shoots (for collective and solidarity projects, projets collectifs ou solidaires in French) to students.
IÉSEG Studios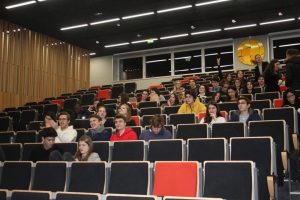 IÉSEG Studios aims to produce a short movie during the year, and to discuss the culture of cinematography on social networks.
Passionate about this project, the association wishes to bring students together in their love for cinema, in order to create fiction by and for students.
IÉSEG TV

Thanks to IÉSEG TV,  ÉSEG students have gone behind the scenes of the Parisian campus.
The association aims to create interesting interviews and reports on more serious subjects in the national and international news.