Why study in France?
France is an ideal place to study abroad thanks to its rich culture, gastronomy, architecture, and thriving student life. It has been the home of many of the world's greatest philosophers and thinkers, and is a historic center of culture, from the Lumière Brother's invention of cinema to the evolution of the cutting-edge fashion industry. Every year, France's cultural events and festivities attract people from all over the world.
Not only is France renowned for its culture, there are also some particularly good reasons to choose this country to pursue an education in business. Campus France highlights that France ranks third in Europe in gross domestic product and is the second-largest European market (IMF 2018, Eurostat 2015). Furthermore, according to the latest barometer published by international accounting firm EY, in 2020 France has risen to first place in the ranking of European countries most attractive to international investors.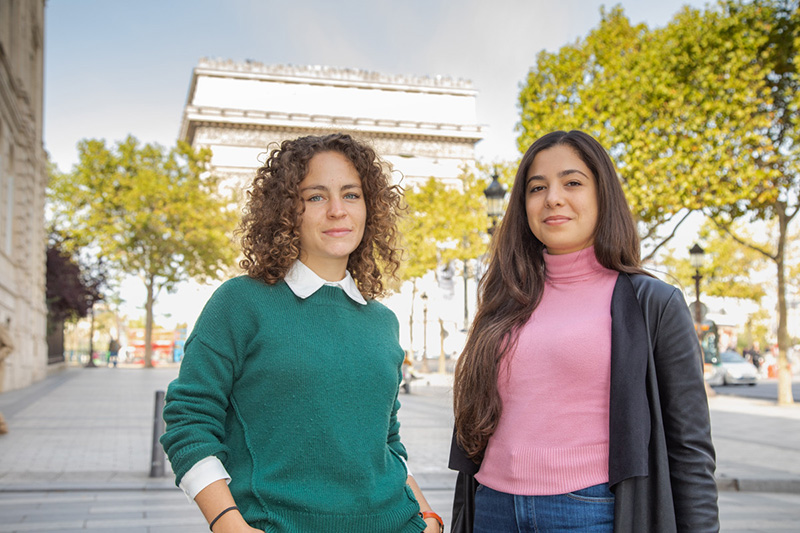 The rest of Europe within easy reach
Both Lille and Paris are strategic crossroads to access the rest of Europe, with high-speed trains (TGVs) connecting them to Brussels, London, Amsterdam, and more. Airports provide affordable travel options to the rest of Europe, so that, after only a few hours of travel, residents of these two cities can access many large European cities. Be it for a long vacation or a weekend trip, destinations abound.
FRENCH CULTURE AND LIFESTYLE
Architecture
Both Lille and Paris boast cultural attractions, with museums, monuments, historic parks and gardens, and more. Even walking in these cities sends pedestrians back in time, with Lille's distinct Flemish architecture, its over 100-meter high belfry, for example, recognized by UNESCO as a World Heritage site. Similarly, in Paris, strolls lead tourists and residents alike past Haussmann-style apartments, and other well-known monuments, such as the Arc de Triomphe.
While Lille is a smaller city and not necessarily as well known on an international scale as Paris, it is one of the largest cities in France, named the World Capital of Design in 2020 by the World Design Organization, and has been previously named the Cultural Capital of Europe. With many universities and schools in the city, it has a bustling student life.
Gastronomy
France is synonymous with food and wine, with a seemingly endless amount of restaurants and bakeries in Lille and Paris. With over 300 different types of cheese, and a variety of unique dishes in every region, there is something for everyone.
Live Events
Lille and Paris are both home to many theatres and concert halls, providing a selection of ballet, dance and musical formations. Highlights include the Lille National Orchestra and the Philharmonie de Paris, two of France's finest philharmonics, with many performances a year. Whether a lover of classical theatre or contemporary dance, a jazz fan or simply fascinated by new musical genres, Lille and Paris offer students an abundance of performance options.
Similarly, both cities propose many other events, such as the Braderie in Lille, a city-wide flea market that attracts merchants as well as visitors from all around Europe, making it a special Lilloise occasion.