Living abroad can be both fun and challenging. IÉSEG has developed a comprehensive program of activities and support mechanisms to facilitate students' adaptation to their new surroundings, meaning the IÉSEG campus and its facilities, but also the city around it and French culture in general.
"Welcome to France" Certification Label by Campus France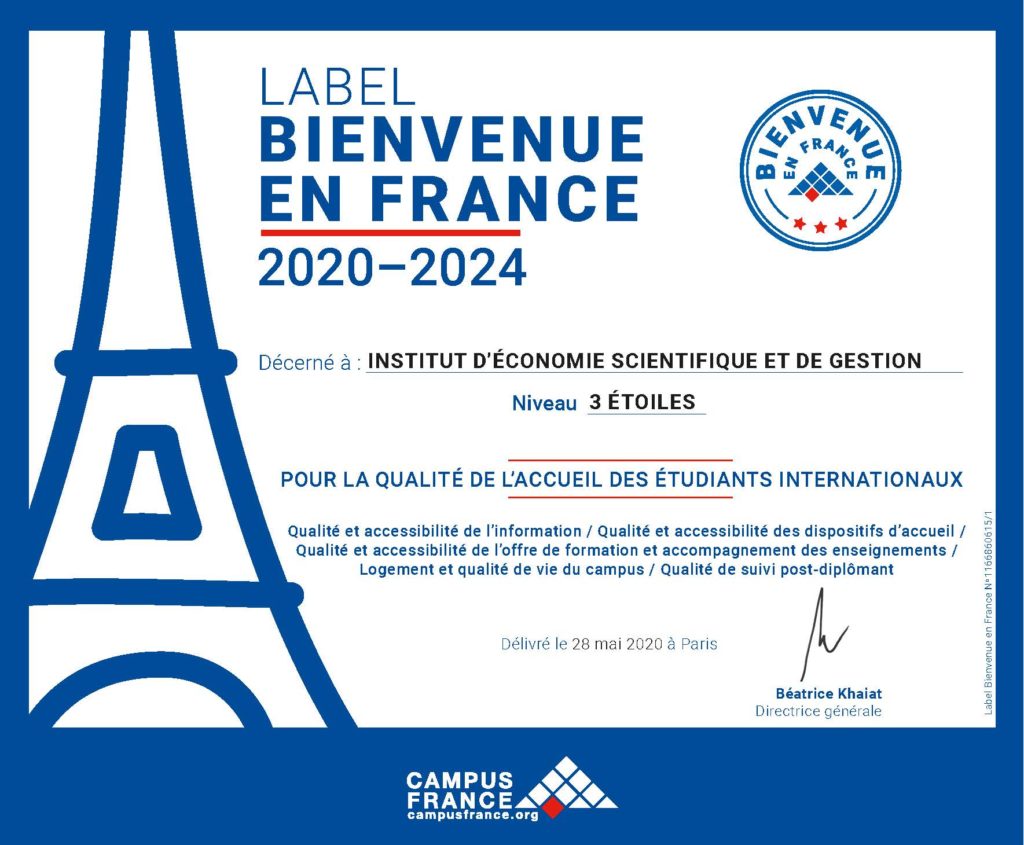 Orientation Week
Every year, IÉSEG organizes an orientation week for international students just before the start of the academic year.
During this week, students are introduced to IÉSEG and its facilities, the program that they have chosen to study, the staff in charge of their teaching, their class schedule, as well as the School's IT procedures.
A broader orientation is also offered, covering subjects such as, how to navigate the public transportation system and how to handle various administrative procedures, including accessing a government housing subsidy, opening a bank account, and generally understanding the qualities of student life in France.
In short, international students are provided with tips and guidelines on how to successfully integrate into the school, the city and the country.
Semester 1 (Fall)
Arrival Date: End of August – Preferred day: August 23, 2021
Mandatory Orientation week: August 24 to 28, 2021
Semester 2 (Spring)
Arrival Date: 1st week of January – Preferred day: January 3, 2022
Mandatory Orientation week: January 4 to 8, 2022
Incoming students: Final dates may be different according to the academic program you are entering at IÉSEG, check carefully the schedule you'll receive a few weeks before the semester starts.
Lille
Pick-up service will be available only on the day prior the orientation seminar.
The International Club (clubinternationallille@ieseg.fr) will contact you early August (for Fall) to organize the pick-up. Please share your arrival date, hour and train station: Lille-Flandres or Lille-Europe. Lille-Europe is also considered as a bus terminal for long distance coaches and connection with Lille-Lesquin airport.
Paris
There is an excellent fast train (RER) and bus network to commute from the CDG and Orly airports to the city of Paris and its suburbs. International students will be welcomed on the campus directly on the first day of the orientation week.
If you are late for the orientation seminar due to academic reasons at your home university, you are required to notify our International Services Coordinator of your arrival date.
This Orientation Week is MANDATORY.
Buddy System
IÉSEG also offers a Buddy System, which pairs new international students with current students who can offer a friendly face and a helping hand.
This system is in place on both the Paris and Lille campuses and helps new international students adapt to life at IÉSEG.
Typical "buddy" activities include:
showing new students around campus,
identifying banks and grocery stores in the vicinity,
helping newcomers with communicating in French,
providing invaluable information about French and local customs.
If you're a new international student and would like to get help to settle into Lille or Paris, or you're a current IÉSEG student and would like to volunteer as a buddy, please send an email to clubinternationallille@ieseg.fr for Lille and clubinternationalparis@ieseg.fr for Paris.
Volunteers and new students are paired from August onwards for the fall academic semester, allowing new students to get in touch with their buddies over the summer, and from December for Spring semester.
International Club
Another source of assistance is the International Club, an association of IÉSEG students who offer support to new international students throughout the year.
The Club is present on both the Lille and Paris campuses. Every year, when international students representing more than 100 nationalities arrive at IÉSEG, club members are involved in welcoming them and assisting them to adapt to their new surroundings.
To help them enjoy their time in France as much as possible, the International Club also organizes events and trips during the year. These enable international students to discover French culture, and to meet other students (both French and international). In addition, the International Club organizes an integration week and galas.
The student association is composed of two teams, in Lille and Paris. These members are available to answer questions and assist other students with administrative and personal issues throughout their stay.