Back
Challenges 2021 Ranking: 5 IÉSEG start-ups in the Top 100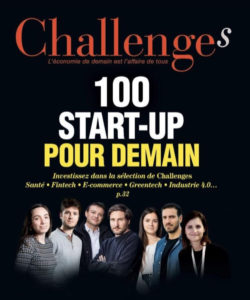 For the twelfth year, Challenges has published its selection of the '100 start-ups to invest in', a reference read and examined by all professionals of the entrepreneurial ecosystem. 5 start-ups created by IÉSEG students, IÉSEG graduates or individuals from the IÉSEG incubator have been honoured in the 2021 list.
A great recognition for the School
The 5 selected jewels are:
– Les Apprêtés, which offers a sustainable and 100% fun alternative to impulse buying and ultra-polluting clothes.
– Fairly Made, which has set itself the task of reducing the impact of fashion on the environment and improving social conditions for workers.
– MadamePee, which has created the first intimate and hygienic urinal for women of all ages.
– IPaidThat, which facilitates accounting for start-ups & VSEs.
– Venture Orbital Systems, which is developing a nano-launcher for the CubeSat and NanoSat markets.
This is great recognition for IÉSEG. Its vision of 'empowering changemakers for a better society' relies on a team of internationally recognised professor-researchers as well as its Incubator which is present on both the Lille and La Défense campuses. Everything is in place to offer students and graduates alike the opportunity to explore the world of business creation.
Entrepreneurship, a key-value at IÉSEG
Courses in the Bachelor cycle introduce students to entrepreneurship, a 'Business Creation Project' module is open to all students in the Master Grande École cycle, and an MSc specialising in 'Entrepreneurship and Innovation' is also available. Entrepreneurship is a key value which is found in all the courses offered at IÉSEG, both in initial training programs as well as in the tailor-made courses and diplomas offered in continuing education.