Back
Flo'WeRun – over 300 people join the fight against peripartum cardiomyopathy
On Saturday, September 25th, over 300 people participated in the third edition of the "Flo'We Run" by IÉSEG" solidarity race. Launched in 2019, this event is a tribute to Florence D'HULST, who worked in the administrative team of IÉSEG, and who passed away in 2016 due to a little-known heart disease: peripartum cardiomyopathy, three months after giving birth to her second child. This event aims to raise public awareness of this rare disease and to raise funds for the association « Cœur des Mamans Priorité Prévention », founded by Florence's father, which missions are prevention and the promotion of research on this disease.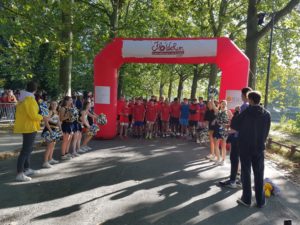 Open to all, this year's race took place in a hybrid format: around 150 people met in Lille's Citadel and almost as many participated remotely, in France and abroad, running the race from their place. About 40 students from various IÉSEG student associations came to help organize and run this event supported by the School.
"We would like to sincerely thank all the runners and volunteers who supported us before and during the race. Thanks to them, this 3rd edition was once again a success, with more than 2 800€ donated to "Cœur des Mamans Priorité Prévention", all this in a friendly and relaxed atmosphere. This solidarity race, supported by the School, is a unifying event for the IÉSEG community and demonstrates that its values of solidarity and commitment are embodied in everyday life", say Laëtitia DUGRAIN-NOËL and Manon DUHEM, respectively Managing Director of IÉSEG Network and Head of Communications at IÉSEG and co-organizers of the race.