Back
Katell SAILLANT, a student from IÉSEG, talks about her experience in Green IT
To conclude her first year of the "International Negotiation & Business Development" major within the Grande École Program, Katell SAILLANT chose to carry out a consulting project related to Green IT. We met with her to learn more about this topic and what it means to her.
Katell, can you explain to us what Green IT is?
To understand what it is, we must first understand what a digital service is. It includes everything that makes up a computer: hardware (servers, network, etc.) made from polluting raw materials, information, algorithms, interfaces, etc. All these components pollute without us necessarily realizing it. Indeed, data and software are stored on a server that consumes a lot of energy. To give you an idea, a server, which has an average lifespan of 7 years, represents more than 4 return trips from Paris to New York by plane from its production to its end of life! In France, this represents a total of 16.9 million tons of CO2 emissions, and this corresponds only to a small part of the digital systems (without taking into account the use of internet, social networks, video calls, etc… which pollute enormously).
These figures will continue to grow and some solutions are starting to be implemented to address this issue, including Green IT. What is Green IT? It consists mainly in improving software and our digital habits with sustainable solutions to reduce our consumption. The other option is also to replace current software with new, greener ones, rather than reworking the existing ones. However, it is better to avoid creating new products in the best case scenario, as these will still represent additional emissions, especially since there is a risk of rebound effect. This effect represents the fact that wanting to create something good and useful, turns out to be the opposite if we have not taken into account the consequences it would have on external industries or actors.
Green IT solutions can be very simple for the user: sorting emails, sending a link rather than a photo attachment, regularly emptying the trash, storing on a hard drive rather than on a server… as more complex: develop two different applications so that they are adapted to the consumer, change the type of hosting or cloud to suit our needs… A multitude of solutions exist to encourage digital sobriety for the company as well as for each of us.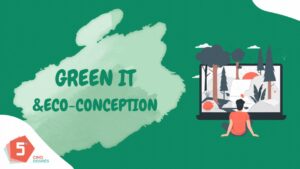 Why are you interested in Green IT?
Ecology in general is an important issue for me and I want it to remain so, especially in my work. For my consulting project, I was offered this mission around Green IT which was, as for many people, a rather vague subject for me at first. By asking around, I found it very interesting because it combines two booming themes: CSR with all the measures that need to be taken quickly if we want to see an improvement on the environmental level, and the digital sector which will continue to develop over time. From a professional point of view, I know that these are sectors that are growing and that companies will need more and more experts in the field of Green IT. Also, at the moment, there are still very few laws on the subject, but the government is getting more and more interested, and these laws will eventually be adopted. So, not only do we need to act for the protection of the environment, but in any case, companies will soon have no choice but to comply with certain rules. This consulting project brings me skills and knowledge that I did not have before and that will be very useful for my future career.
A few words about your consulting project?
At the end of the first year of the Master's program at IÉSEG, we have the choice between a thesis or a consulting project. I opted for the second option because it allowed me to work with a company and to see the real impact of my work. I am currently working for a company called 5DEGRÉS which offers consulting services in digital transformation. They called on me for their ecological transition. I work a lot on Green IT but also on the ecological transition in its entirety. I guide the company while training myself at the same time.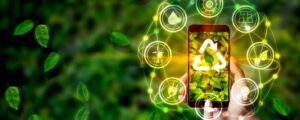 Is Green IT the future?
Yes, but it goes hand in hand with many other things, such as awareness and eco-design. The problem of Green IT is the emergency of the current situation. Usually, we study and understand a situation before acting (for example, specialists started by studying the subject of thermal pollution before proposing solutions to reduce it). Today, the urgency is such that we must understand and act at the same time. Companies don't necessarily have time to deal with this subject but they are aware of the emergency, and that's why they call on ecological transition and Green IT consultants like me.
How do you see yourself in the future?
Today, I know that I don't want to be a consultant all my life, but I would like it to be part of my job because I like to advise, to guide, or at least that these values are part of the company. I want to continue to be able to lead projects related to Green IT or CSR in general.