Back
IÉSEG launches its new "Ambassadors" platform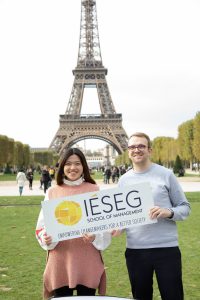 In order to encourage more interaction between IÉSEG candidates, current students and alumni, the School is pleased to announce the launch of its "Ambassadors" platform. This platform, incorporated into the School's website, allows candidates (in France and abroad) to ask their questions about IÉSEG and to discuss directly with current students and alumni (ambassadors).
Currently, 20 ambassadors (10 for the French-speaking platform and 10 who come from around the world for the English version), made up of IÉSEG students and alumni from different programs and tracks, are already active on this platform.
They will respond to candidates' and students' questions regarding courses, the School's activities and associations, life in Lille and Paris, etc.
"We are very proud of this project. This is a nice and fun way for candidates to discuss directly with ambassadors of the IÉSEG community and to have additional information about our programs," the Recruitment Managers (Céline Verdrière in France and Jie Hong internationally) explained.
For more information about the Ambassadors Platform: https://www.ieseg.fr/en/ambassadors/ (English-speaking platform)