Back
In Rome, IÉSEG's sports teams shine at the 2021 World Inter-Universities Championship (WIUC)
Sports are an integral part of IÉSEG's associative life: by offering 12 different sports on the Paris-La Défense campus and 17 on the Lille campus, the Sports Offices (Bureaux des Sports) on both campuses offer all students a very wide range of activities. The teams also represent the school during the numerous national and international competitions that take place throughout the academic year.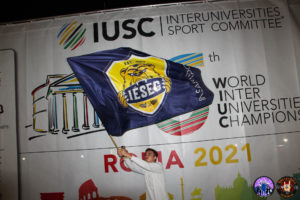 From November 10th to 14th, 2021, the sixth edition of the « World InterUniversities Championship »  (WIUC) took place in Rome – it is an international sports competition held each year in a different country in Europe. IÉSEG is one of 41 universities and colleges from 13 countries that participated in this high-level tournament.
This unifying event for the university community brought together more than 2,100 young athletes from around the world through a dozen of different sports: soccer, futsal, basketball, volleyball, rugby, tennis, swimming, handball, badminton and cheerleading. IÉSEG's Sports Offices gathered 13 teams in total (male and female) to compete in this tournament. 189 students from the Paris-La Défense campus and 182 from the Lille campus, as well as about 30 supporters, traveled to Rome for the event. "This year, we made a point of having as many women's as men's teams participate. It was important for us to make sure that the girls were as well represented as the boys during this competition", explains Agathe TAGNARD, President of IÉSEG's Sports Office in Paris-La Défense.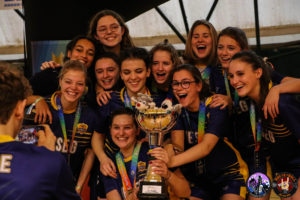 IÉSEG teams performed well throughout the competition: the IÉSEG Lille women's handball team took the second place on the podium and the team from the Paris-La Défense campus finished third. In the men's tournament, the Lille handball team also finished second. In basketball, the Paris men's team made it to the quarterfinals, as did the Lille men's soccer team. The Paris cheerleading team came in 4th place, and the Paris men's rugby team made it to the quarterfinals as well.
To ensure the School's participation in this competition, the Lille and Paris-La Défense Sports Offices took care of all the upstream preparation: communication, contact with the event organizers, team selection, presentation in the amphitheater, ticketing, management of accommodation and food, etc… everything was put in place to ensure the smooth running of the competition.
"The WIUC is above all a very unifying event that helps to strengthen the teams. The fact that they travel together and share special moments allows participants to get closer and create real bonds, which corresponds to our mandate to bring the teams together. We really observe a 'before' and 'after' the event within the teams," adds Agathe.
Congratulations to all the teams for their participation and good results, and congratulations to the supporters (students and staff) who supported them during the whole competition!