Back
Meet the IÉSEG Incubator's 21 startups!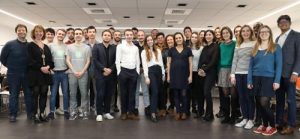 IÉSEG's Incubator, based in Lille and Paris, supports young entrepreneurial talent. In January, 21 startups joined the Incubator's Start program, which provides them with a dedicated space (shared offices) and individual (coaching) and collective (workshops led by experts) support during 12 months to encourage their growth and development.
These startups cover a large range of services and products:
• A network of smart terminals for the rental of portable batteries with Buzz Power, represented by the IÉSEG student Arnaud Mergui.
• All-natural dog treats with Cani-Gourmand, represented by the IÉSEG alumna Aurélie Dedieu.
• Activities for future and young parents with Layette Club, represented by IÉSEG alumna Caroline Guillemin.
• Swimsuit or sportswear with Club Piscine, represented by IÉSEG alumna Julia-Négron Dumont de Chassart.
• A recommendation platform for tech specialists with Rekommend, represented by IÉSEG alumnus Marc Ammeux.
• Day One, a social startup that helps companies employees use their skills in meaningful projects, represented by IÉSEG alumna Elise Thibault-Gondré.
• An Esport structure with Exalty, represented by IÉSEG student Maxime Lieval.
• A street marketing agency (flyers, posters, etc.) with Flying for You, represented by IÉSEG student Cheikh Kane.
• A rental service for high-end radiators with Greenergy, represented by Jean-Alexandre Grunelius (founder), Laurent Benard and Cédric Moreteau, IÉSEG Executive Education participants.
• A turnkey solution for trying on and buying clothing at home with merci Gustave, represented by IÉSEG alumna Clara Foache.
• A start up that gives a second life to cultural and multimedia objects with La Bourse aux Livres, represented by the three IÉSEG students Alexandre Taillandier, Dorian Lovera, and Tom Castano.
• Positive impact product placement with Pixetik, represented by Morgane Baudin and Camille Dijoud.
• An online booking site for alternative medicine with Pungao, represented by Roxane Leroy, IÉSEG student.
• A wellness club for leaders with Revlys, represented by alumni Solène Loeur and Axel Fenaux.
• A rental service of eco-responsible clothing and accessories for men and women with Les Apprêtés, represented by IÉSEG alumni Marie Brandicourt and Anne-Claire Chanvin.
• An online art gallery with The Art Cycle, represented by IÉSEG alumna Julie Gueudet.
• A smart refrigerator in work spaces with Le Frigo, represented by Augustin Peugnet, IÉSEG student.
• A brand of Javanese and handcrafted women's accessories with Semandtik, represented by Guillaume Pigeon (founder), IÉSEG student.
• Artisanal beer with BringYouBeers, represented by IÉSEG alumni Antoine Elias and Corentin Marque.
• The design, distribution and analysis of online surveys with Selvitys Sondage. Three students represent this company: Benjamin Alt, Killian Lextrait, and Raphael Jasmin.
• Local seeds with Nos Pépites, represented by Marine Deneuville, IÉSEG staff member.
The Incubator also supports entrepreneurs with two other programs: SPARK and SCALE.
For more information about the Incubator: http://incubateur.ieseg.fr/