Back
Meet PMC, rapper and student at IÉSEG
Each month, discover a student story highlighting the talents and initiatives of one or several IÉSEG students. This month, we met the young rapper Paul Mathieu-Collin, also know as PMC.
Paul, could you please introduce yourself?
My name is Paul Mathieu-Collin but my stage name is PMC. I am currently in the Marketing specialization in the Master cycle of the Grande École program. I have been playing music for years. I've been creating instrumentals for about 8 years and I started writing my lyrics about a year and a half ago. When I started to post my music on social media, I could immediately notice a certain enthusiasm for what I was producing from people around me, but also from people who were unknown to me. So I published more and more tracks and participated in contests to create an active community. Finally, I released a few tracks and since then, I'm making my way little by little in this so special world that is the music world.
How did you get into writing?
I always thought, mistakenly, that I wasn't made for writing. I think subconsciously I had always wanted to write my lyrics, but I wasn't doing it because I didn't feel like I was up to it. Finally, in the summer of 2020, I produced yet another instrumental and decided to try to put lyrics to it. So I wrote a first draft that came to me quite easily and that I thought was pretty good. I published it on my social networks and I received positive feedback. This encouraged me to continue my work. Today, I realize that, as in any discipline, one must always try, jump in, and judge the result afterwards. The answers come with experience and if you get rid of self-judgment, you can achieve very beautiful things.
What role does music play in your life?
Since I was a kid, I've always had a special connection with music. I started playing the piano and the drums at a young age. I got my first mp3 at the age of 8, with which I was constantly listening to music. I've also always sung for fun and started doing instrumentals in 2014, inspired by Stromae, thanks to the tutorials he was posting on Youtube. I downloaded proper software to make instrumentals, learned music theory, invested in speakers, a microphone and a computer. I continued to compose over and over again. During the first confinement, in 2020, I went back to my parents' house and found myself making instrumentals every day without seeing the time passing. It was like a revelation for me, I realized that this was what I loved to do most of all.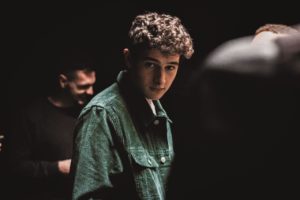 What is your goal today as a rapper/musician?
My objective is to be able to call myself an artist and to be able to make a living from my music after graduating from IÉSEG, either by creating my own structure or by signing an interesting contract with a label that suits me. I have already started to create a network in the industry by meeting artists, managers, artistic directors… I signed my first exclusive and publishing contracts for a period of one year with the brand Mentos for which I made a song ("Fresh Talk") and a video clip with another rapper named Keyzane.
What do your studies at IÉSEG bring to you for your career as an artist?
IÉSEG has helped me a lot to learn about many subjects and has taught me to see the business side of the artist's life, to understand how the music industry works and what it takes to succeed financially. My law classes helped me a lot with signing contracts because they taught me how to read a contract correctly, making sure that all the clauses are what you want. I was able to negotiate my first contract thanks to the negotiation classes and the marketing classes help me with my social networking. On the other hand, my experience in associations at the School taught me how to develop my curiosity and my open-mindedness. Generally speaking, IÉSEG has allowed me to become organized and methodical, whereas I was disorganized and scattered by nature. Thanks to the School, I have all the cards in hand to make the right decisions for my future and I have been able to start building a network.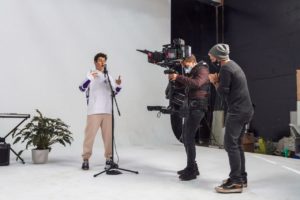 How do you manage to combine your career as an artist with your studies?
When we are in a Master program, we have free time to develop projects on the side, which is what IÉSEG encourages us to do. Thanks to this, I find the time to develop my career in parallel to my studies. I think that this is the strength of IÉSEG compared to other schools: not only do students validate their courses, but they also do a lot of other things on the side.
And what does your life as an artist bring to your studies?
I think it makes me a more interesting student because it complements and enhances my life at the School. That's why I encourage all students to get involved in associations and other activities. This is what helps to develop a complete life project, in addition to all the methods we learn in class. I think that it is essential to explore outside the classroom to develop your interests and know what drives you in order to build your future.Mettre les liens vers ses RS, ses musiques, ses clips …
Follow his Instagram page and check out his Youtube page!