Back
La Tribune IÉSEG Paris wins the 2021 French Parliamentary Debate Championship
Held at the Collège des Bernardins in Paris on June 25, the finals of the French Parliamentary Debate Championship was won by La Tribune Paris, the IÉSEG association, whose team was made up of Cécile DESPREZ, Justine SAINT-GEORGE, Nicolas PRÉVOST and Léo CHUNG, ahead of Révolte-toi Versailles, the Paris-Saclay students' association.
The French Parliamentary Debate Championship is a competition spread over eight months and gathering 32 associations of the French Federation of Debate and Eloquence (FFDE) around the exercise of parliamentary debate. Each round consists of a parliamentary debate by team (four against four) where the debaters are brought together within a fictitious government and opposition to deal with a subject drawn from the current events. The candidates, all students, are evaluated based on the content of their arguments and their oratory skills. At the end of the match, the jury names the winning team.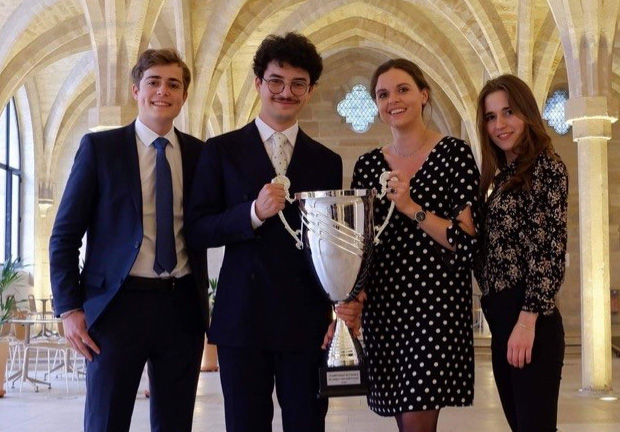 In front of a jury composed of Paula Forteza (député – a member of the French National Assembly), Francis Szpiner (a lawyer and mayor of the 16th district of Paris), Pierre-Yves Bournazel (député – a member of the French National Assembly) or Marie LEBEC (députée – a member of the French National Assembly), the students of both associations competed on the theme: "This government would create a teaching of religious culture in secondary schools", a subject transmitted only 72 hours in advance to prepare arguments and counter-arguments!
For Léo CHUNG, president of La Tribune IÉSEG Paris, "we are very happy to have won this championship, and this victory has a special taste for several reasons. First, we are the first association to have reached the finals twice (after 2020). Second, we are the first business school association to win this championship! Finally, because of the health crisis, we had to pass several rounds remotely (the physical confrontations being organized only for the semi-finals and the finals), which added its share of complexity to touch the jury and succeed in convincing it and moving it, which is much more difficult than when it is face to face. For all these reasons, we are proud of the work accomplished and we enjoy our victory all the more!"
La Tribune IÉSEG is IÉSEG's debate and conference association, created in June 2011 on the Lille campus, then in 2013 on the Paris campus. The association aims to organize conferences with personalities who are in the news on political, economic and social topics. Since its creation, La Tribune IÉSEG has welcomed many guests who are eager to share their political vision and ideas and to raise awareness of the Res Publica among students. In parallel, La Tribune also organizes debates on specific themes with public figures and regularly participates in debate competitions, such as the French Parliamentary Debate Championship, organized by the FFDE.
Congratulations to the entire team and to La Tribune IÉSEG Paris for its exceptional performance!