Back
Two students cycle for the association « Children of the Mekong »
Clotilde GAILLOT, student in Master of the Grande Ecole Program at IÉSEG, and Flavie GONNET, student in medicine, have been friends since high school. Despite the difficult health context this year, they decided to join forces to take up a solidarity sports challenge on the other side of the world, which they named "Happy'Cyclette", in support of the association "Children of the Mekong."
We interviewed Clotilde and Flavie: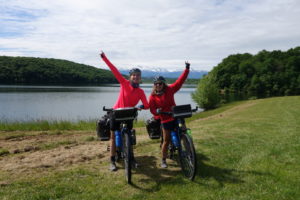 How did you come up with this project idea and what did it consist of precisely?
At first, we both wanted to get involved in a humanitarian project in order to make a positive impact on the world, at our level. We wanted to go cycling together and we were particularly interested in the Asian continent but did not know yet which organization to join. One day, while I was browsing through the Christmas catalog of IÉSEG Network (the association of IÉSEG's graduates), I came across an article about Xavier GUIGNARD. He had gone on a one-year trip by bike in South-East Asia in 2014, for the benefit of "Children of the Mekong", and had since become the Sponsorship Development Manager of this association, which works for the schooling of the poorest children.
This project was a revelation for us. We immediately told ourselves that this was what we wanted to do! We got in contact with Xavier to figure out how we could help the association. Initially, we wanted to go biking for six months across the six countries where the association operates, in order to meet with the children that it sponsors and establish a concrete relationship with them.
However, the COVID-19 crisis made us change our plan. We ended up staying in Cambodia and cycled for three months to meet ten children and provide some help at one of the association's centers. We then continued our cycling experience in France, this time, to meet the godparents.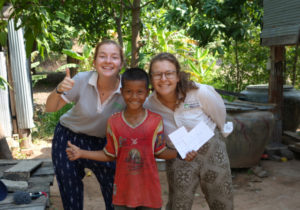 How did you prepare for this trip?
We had set a budget of €12,000 for the trip – a third of it was financed through an online fundraising campaign. We started our journey in February 2021 without knowing in advance where we would sleep each night nor the exact route that we would take. Once we arrived there, we had to quarantine for 14 days and we took advantage of this time to finalize all the details. We were also supervised by the association and by Xavier in particular, who has a deep knowledge of the land thanks to his own experience.
Before starting this adventure, we were not athletic at all; we went running from time to time but that was it. Our family and friends thought we would give up quickly, but we were confident. We knew that we were mentally prepared to succeed. In the end, we took the challenge to the end! In total, we covered 1,500 kms in Cambodia and 2,300 kms in France.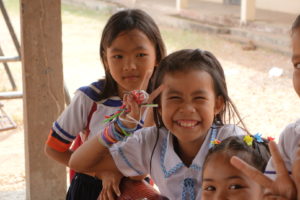 What do you retain from your experience?
The warm welcome we received, both in France and in Cambodia. We had the chance to stay every night with locals and we were extremely well received. We think that the COVID crisis also had a positive impact on people, as they were happy to meet new people. We had brought a tent with us for the trip but in the end we barely had to use it.
In addition, in Cambodia the living conditions are often difficult but people never complain. We really became aware of how lucky we are to live in France and to be able to study what we want. This gave us a new boost of energy to go back to school after this adventure.
A fun story to tell?
Before starting our bike tour in Cambodia, we went to Decathlon. We started talking with the store manager and told him about our project. He reacted with a lot of enthusiasm because he knew "Enfants du Mékong" very well, being himself a former godchild of the association! He had grown up in the center that we were planning to visit, in the west of Cambodia. This meeting was a real source of additional motivation because we had just in front of us a concrete example of success thanks to the sponsorship of the association. It really made sense.
Learn more about "Children of the Mekong": www.childrenofthemekong.org