Back
What does ethics at work mean to employees? Launch of IBE survey report "Ethics at Work: 2018 survey of employees – France"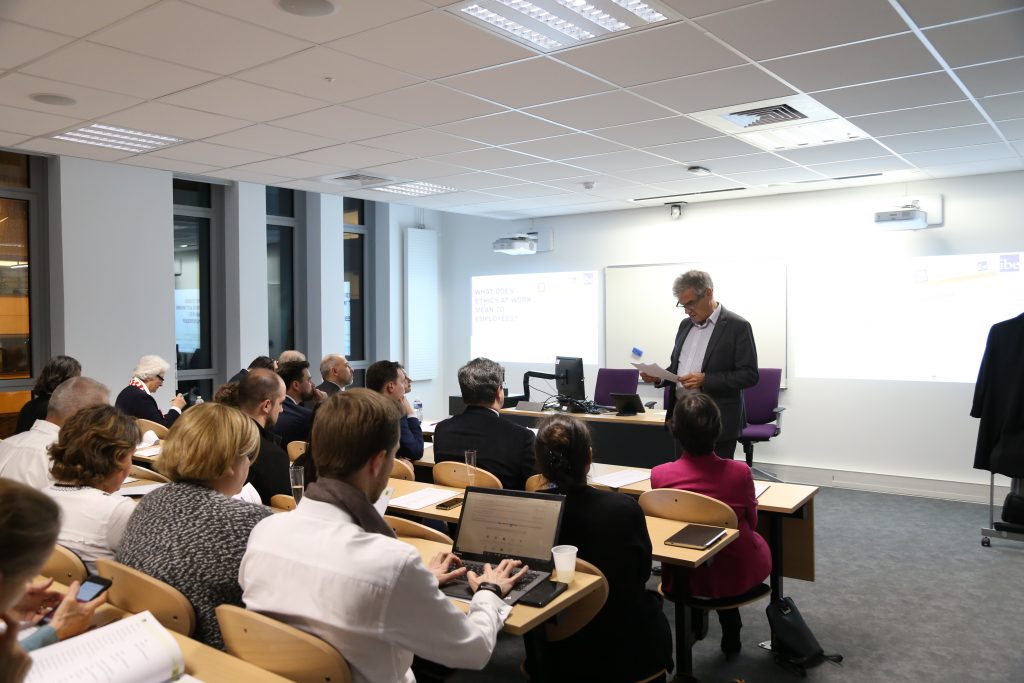 One in six employees in Europe (16%) say that they have felt some form of pressure to compromise their organizations ethical standards, according to a recent survey released by the Institute of Business Ethics (IBE). The number of employees experiencing this pressure has risen in all of the countries for which historical data is available.
The IBE notes that the Ethics at Work: 2018 survey of employees is "the only one of its kind covering Europe which provides real insight into employees' views on ethics across all sectors and job roles".
IÉSEG, through its Center of Excellence for Organizational Responsibility (ICOR) has been one of the five European national partners in this IBE project helping to provide insights for developments in France. The results of the IBE French survey were presented and launched at a special event held at IÉSEG's Paris La Défense campus on the 4th December.
After an opening keynote address by Emmanuel Lulin, Senior VP & Chief Ethics Officer – L'ORÉAL, the results of the new publication were presented by Guendalina Dondè, IBE's Senior Researcher & main author of the report.
The survey reveals for example that 20% of French employees say that they have felt pressured to compromise their organizations ethical standards. This is an increase of +6 percentage points from 2015 (14%) and is higher than the 2018 average (16%) for the eight European countries studied. The figure is even higher for those in managerial positions (26% versus non-managers 16%). The reasons employees cite for the pressure include time pressure (38%); following a boss's orders (30%); having to meet unrealistic business objectives/deadlines (23%) and being asked to take shortcuts (20%).
Over a third of French employees have been aware of misconduct in the past year (34% vs 30% in 2015), a higher percentage than the European average; but there is an improvement in the number of employees who have raised concerns about it, although it is still below the European average.
Dr. Simone de Colle, Professor of Business Ethics at IÉSEG, and Dominique Lamoureux, Président, Cercle d'Ethique des Affaires & VP, Ethics & Corporate Responsibility, Thales, then explored the report findings and offered a critical perspective on corporate ethics programs from both an academic and corporate perspective.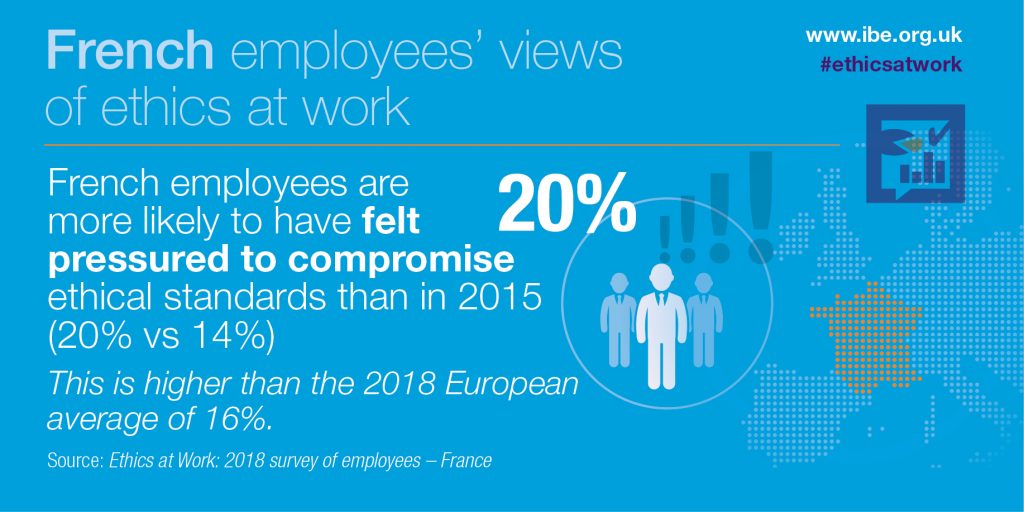 Simone de Colle, who provided commentary for the new report, notes: "The findings of this survey in France highlight some encouraging and worrying signals. While more employees are willing to 'speak up' when they see misconduct at work (52% compared to only 44% in 2015), it is concerning to note that 26% of employees in managerial positions have felt pressured to compromise their organizations ethical standards.  The survey's insights provide organizations with useful information to better shape current corporate ethics programs. It also makes them more effective in promoting the development of an ethical business culture, which promotes forms of responsible capitalism, going beyond mere compliance."
The new publication Ethics at Work: 2018 survey of employees – France can be downloaded from the IBE website.
More information on ICOR is available here.