International Summer Programs Practical Information
HOUSING – ACCOMMODATION
During the program, students will be accommodated in single rooms at one of our partner residences, in one of their residence in La defense (5 to 10min walk from the school).
All rooms are equipped with:
> Sleeping area: single bed (90 x 200cm)
> Desk area: table and comfortable chair
> Storage space: closet, bookshelves and additional storage space below your bed
> Well-lit bathroom: large shower, large mirror, sink and toilet
> Fully equipped kitchenette: 1 sink, 1 microwave, 2-burner stovetop, 1 fridge and 1 full set of dishes with all you need for cooking and eating
> Bed linen, bathroom towels, cleaning kit and kitchen kit (plates, cutlery, pans, etc.) provided
The residences common areas within the building include:
> a shared kitchen,
> a laundry room,
> a study room,
> a fitness room, etc.
You will be able to check-in on Sunday 4th of July 2021.
The checkout for the 2 weeks programs (Entrepreneurship and Innovation, Digital Marketing and Fashion Business) will be on Saturday 17th of July 2021, at the latest.
The checkout for the 4 weeks program (International Summer Academy) will be on Saturday 31st of July 2021, at the latest.
For any other specific needs regarding accommodation, please contact summer@ieseg.fr.
EXTRACURRICULAR ACTIVITIES
In addition to a busy academic schedule, participants of the IÉSEG Summer Academy benefit from the high-quality selection of extracurricular activities. (Subject to change without prior notice)
Guided Seine River Cruise
The traditional and romantic Seine river cruise is offered to our Summer Academy students as part of the welcome weekend. Since the Middle Ages, the Seine river banks form one of the most beautiful urban landscapes in the world. Many of Paris' famous sights – Notre-Dame, the Louvre, the Orsay Museum, Palais de Chaillot, the Eiffel Tower – are located on the Seine river banks. That will be an exceptional, quick and relaxing way to visit Paris during your first days with us.
"L'incontournable" International evening
The Summer Academy International Evening is a great celebration of cultural diversity. At the same time, it gives our students a chance to show their talents. The evening celebrates the culture and diversity at IÉSEG, providing an opportunity for students and staff to share in their cultural diversities through music, dance, poetry, costume and tradition.
Our closing ceremony
An unforgettable closing ceremony marks the end of the IÉSEG summer programs, followed by a farewell cocktail celebrating your achievements and new global network of friends.
Specific Activities per program
You will be able to choose between 2 to 3 elective activities among the potential following (Subject to change without prior notice):
Guided tours of Paris' districts (Montmartre, Le Marais, Paris left bank, Street art, secret passages, etc.)
Opéra Garnier
Château de Versailles
The Fragonard Museum
Bakery class or French Gastronomy class
French Cheese tasting
Orsay Museum
Day in Reims (Champagne Region)
Etc.
GRADES AND CREDITS
Students' work is graded out of 20 points, the lowest passing grade is 10/20. Grades may be awarded for final examinations, individual and/or group papers and reports, and class participation. Most grades are a mix of several of these types of assessment.
IÉSEG International Grade Conversion Scale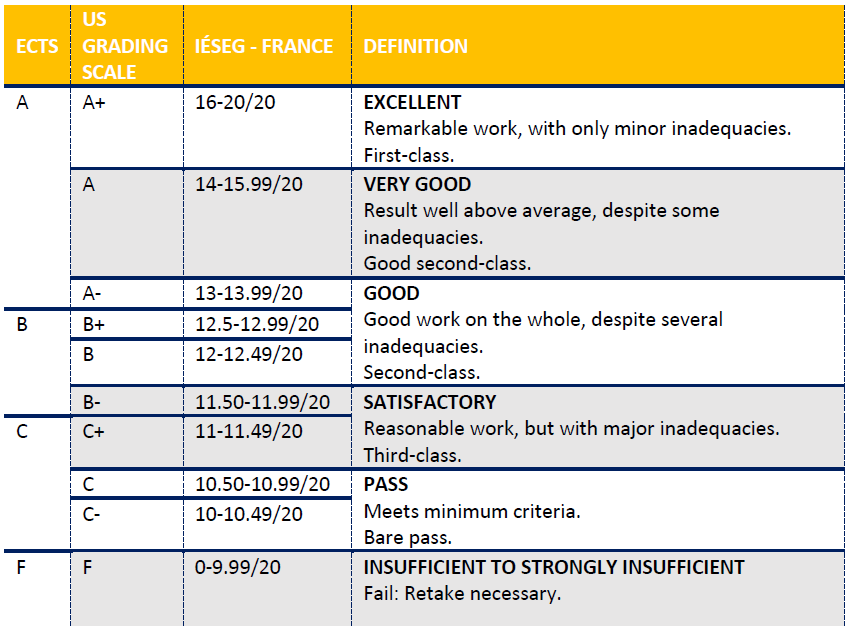 Transcripts
Every student will receive two official transcripts after the successful completion of all program requirements. The transcript will show the course name, contact hours, the number of acquired credits, as well as the achieved grades.
Credit Transfer
Most international colleges and universities accept credits from the IÉSEG School of Management. However, each institution has its own policy regarding credit acceptance from other institutions. We strongly recommend that students consult their academic advisor and/or professor to receive credit transfer approval before applying to the IÉSEG Summer Programs.
If they would like to transfer credits to their home university, they should print out all documents and contact the professor or study abroad advisor and ask for credit and grade approval.