IÉSEG's International Scholarships program
IÉSEG offers a limited number of merit-based scholarship opportunities for international students. The scholarship encompasses a tuition waiver from 10% to 50%.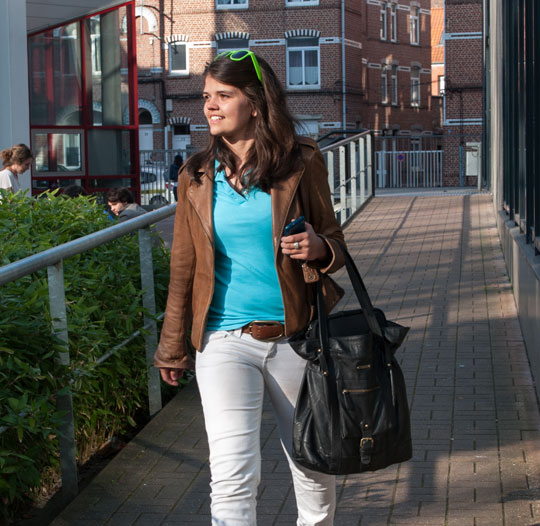 All applicants into graduate programs are automatically considered for this scholarship and there are no specific application forms to be filled.
The admission jury will review all the accepted applications and make its decision based on the following, which are part of the application package :
Academic performance
Relevant working experience
English Proficiency Test
GMAT (if applicable)
Selected recipients will be notified by email along with admission decisions.
Study Insurance
IÉSEG subscribes to a study insurance from Mutuelle Saint-Chistophe through the broker Gras Savoye for its students.
This insurance covers the payment of the tuition fees in case of work contract termination for economic reasons, death or serious illness of the financial guarantor or serious illness of the student.
For any query, please contact: inscription@ieseg.fr.
Other Scholarships
The French government awards a certain amount of money every year to fund foreign students studying in France. Most of these scholarships (or in French, bourses) are granted based on the recipient's program of study (the degree he or she will earn from a higher education institution), or the recipient's research projects.
The duration of your scholarship depends on the program of study or the work involved. That being said, your results while in France, such as exams and research, can affect how much money you are awarded. The following websites contain information on scholarships for international students who want to study in France:
All international students are encouraged to check with their own government to see if there are any scholarships available.
French Financial Aid
ALL STUDENTS (EU and non-EU citizens who obtained the OFII visa) have the opportunity to apply and pursue financial aid resources while in France. To benefit from the French financial aid system, you are required to create an account with the CAF (Caisses d'Allocations Familiales).
What is the purpose of CAF? …The CAF manages financial aid for housing. The CAF serves the public to help individuals pay for accommodation. Most students residing in France with a valid resident's permit are eligible for financial aid. If you are staying in the same residence for MORE THAN three months, the CAF will offer a rent rebate. The level of help from CAF depends on your income, type and location of housing and rent paid. In case of a shared apartment, every tenant can benefit from CAF, but the amount will be divided between each individual depending on the amount of rent (each person must apply separately).
There are a few types of financial assistance available through CAF, ALS (Allocation de Logement Sociale) and APL (Aide Personnalisée au Logement).
The ALS is the rebate that you will receive in the form of an allowance. The rebate will be paid DIRECTLY into your French bank account every month (note that ALS and APL are never paid during the first month of residency).

For more information, please click here.
None of the Post-graduate programmes (the 9 Master of Science and the IMBA) is eligible to the CROUS' scholarships based on social criteria (neither to most of the public funded scholarships).
For more information, please contact the Registration Department.
Note: The orientation week is extremely essential for international students. IÉSEG will make a presentation about CAF and help all the international students apply for it.
Working part-time
If you are an EU citizen there are NO restrictions on your ability to work in France.
If you are a non-EU citizen French law says that you have the right to work during your studies AS LONG AS you are enrolled in an academic institution that is open to the Student Social Security system. This means that, to work part time while in France, you must have in your possession proper identification or un titre de sejour that is also valid during the duration of employment. French legislation now authorizes foreign students to work a maximum of 964 hours per year.
With a carte de séjour, you prove that your right to study and work in France has been validated by OFII and Direction Départementale du Travail, de l'Emploi et de la Formation Professionelle (DDTEFP).
Can a foreign student be paid for part-time work?
There is a minimum salary law in France known as "le SMIC" (Salaire Minimum Interprofessionnel de Croissance), which is approximately €9 gross per hour (before the average 20% deduction for social security contributions).
Note: It is NO LONGER NECESSARY to obtain an APT (Autorisation Provisoire de Travail) to work during your studies (with the exception of Algerian students, for whom the APT status actually rests, as defined by the Franco-Algerian Accord of December 27, 1968).
Note: Keep in mind that working half-time in France will not allow you to cover all your expenses – it can only provide extra income.
For more information, please click here
Eiffel Scholarships
The Eiffel Excellence Program offers funding for a Master's postgraduate degree course and PhD. It is run by the French Ministry of Foreign and European Affairs. Focusing on three key subject areas of sciences, economics and management, law and political science, its primary aim is to offer scholarships in French higher education establishments to future public and private sector decision-makers in foreign countries. As regards the Master's degree course, students pursuing careers in teaching and research are not eligible as they can benefit from other grant programs.
It also seeks to encourage applicants from developing countries, particularly in Asia, Latin America, Eastern Europe, the Middle East and the new EU Member States, although this does include industrialised countries for the PhD component. The Eiffel Programme is designed to help French higher education establishments attract high calibre overseas students. Only French higher education establishments can submit applications and, if successful, they must enrol the candidates in the requested courses to obtain the Eiffel grant.
Note: The School must apply for the Eiffel scholarships on behalf of the selected students. All interested students please contact the Admission/Recruitment contact for the specific program for more information.
For more detailed information, please check http://www.campusfrance.org/en/eiffel
Other funding
All international students are encouraged to check with Campus France and their own government to see if there are any scholarships available. For American students please check with Sallie Mae for private loan options.
Prodigy Finance offers loans to international students of +150 different nationalities, minimum loan amount is 15000 US$. More information at https://prodigyfinance.com.
Italian MSc participants can benefit from the Intesa Sanpaolo Bank – "Per Merito" Loan. More information at https://www.intesasanpaolo.com/it/persone-e-famiglie/prodotti/prestiti/prestito-onore-per-merito.html