Here, at IÉSEG School of Management, our objectives are simple: we're here to ensure we turn our students into talented, dynamic and above all, successful business people; professionals who will continue to make a difference across a diverse range of global business markets.
Founded in 1964, IÉSEG School of Management is a freestanding business school and a fully independent nonprofit organisation governed by a Board of Trustees. Under the terms of the French law, it is incorporated as an "Association Loi 1901".
Learn more about the Governance
La Grande École
IÉSEG School of Management is a Grande École and thus is part of an elite group of French higher education institutions. Of the 63 business schools in France that have a Grande École program, IÉSEG is among the 12 that have received AACSB, EQUIS and AMBA accreditations.
The Grandes Écoles (literally in French "great schools") of France are higher education establishments outside the main framework of the French university system. The grandes écoles select students in France for admission based chiefly on national ranking in competitive written and oral exams. In contrast, French public universities have a legal obligation to accept all candidates of the region who hold a baccalauréat.
The Grandes Écoles do not have large student bodies. Its membership includes government service, engineering, and business schools that are generally considered to be the most prestigious in their fields. Most of top French executives, in business, politics and the administration, graduated from them.
Moreover, IÉSEG belongs to the selective Conférence des Grandes Écoles (CGE). The CGE is a French national institution, created in 1973. Conditions of entry to the Conférence des Grandes Écoles are strict, and the member institutions and the degrees that they award are highly regarded by students, the public and French employers.
Membership conditions include:
state-accredited degree (grade de master),
recruitment through a nation-wide concours (highly competitive examination),
a program of studies of at least five years,
educational and budgetary autonomy,
high-quality faculty and physical resources,
qualitative pedagogy with a high level of interaction between professors and students (small groups),
well-developed research activities,
strong international dimension, and
strong connections with the corporate world.
Conférence des Grandes Écoles website >
Director's Foreword
Our origins date back to 1964, and since then we've achieved the ranking of a top 10 French Business School as well as the prestigious accolade of becoming a Grande École – one of the most respected and academically rigorous higher education programmes in the world.
The IÉSEG culture is born out of a passion for progress and ability meaning that we focus all our energies on identifying the true potential from each student. We're proud of our unorthodox approach to business education and its ability to instill the key values of accomplishment, responsability, integrity, solidarity, engagement – abilities that have been at the heart of our school since the very beginning.
international
We may have a French location, but when you step inside IÉSEG you enter a global melting pot that's represented by more than 100 nationalities. All of our programmes are taught in English and 82% of our permanent faculty members are international. This is the result of our strong and continued collaboration with 306 partner universities across 75 countries, making IÉSEG one of the most exciting and culturally diverse Business Schools in Europe.
Learn more about International at IÉSEG
One School, two campuses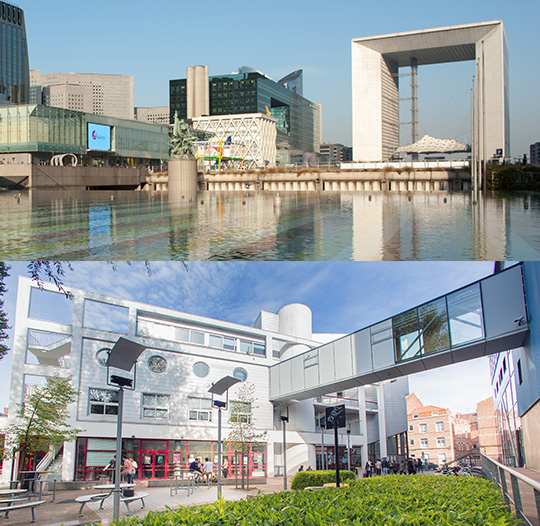 When you join us here at IÉSEG, you'll either be studying from our Paris Campus in the vibrant and bustling business hub of La Défense or at our original campus in the picturesque city of Lille. And it's from our Lille location that students can access the facilities at our partner university, Université Catholique de Lille.
Make the change, overcome the challenges and confront convention – get ready to join the new culture of international business.