[Conference] The 2023 Corporate Finance Days

Date and Location – From September 21st to 22nd 2023 – Lille campus
—————————————–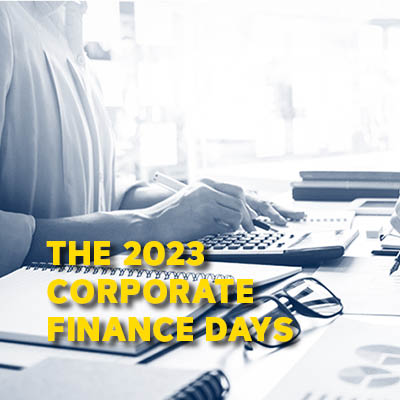 We have the great pleasure to host the Annual Corporate Finance Days on September 21-22, 2023. This 2-day conference aims at providing a stimulating academic and social event where researchers in the field of corporate finance and related study areas can interact and present their work.
The conference welcomes submissions of papers in a broad range of topics in theoretical and empirical corporate finance. We welcome the global finance community: professors, postgraduate students, researchers, and government officials. The conference is also open to researchers who do not plan to present a paper. If accepted, authors will be expected to serve as discussants and/or session chairpersons.
On the first day, only the Ph.D. students will present their work.
Everyone is invited to submit their papers for selection on the second day.
In addition to fruitful exchanges around the papers presented, these days will be an opportunity to meet or find a network of researchers, to create and advance future collaborations.
English will be the working language during presentations and discussions.
Our Keynote Speakers for this event are:
Morten Bennedsen from INSEAD – University of Copenhagen
Armin Schwienbacher from SKEMA Business School
IMPORTANT DATES
Submissions open: February 1st, 2023
Submissions close: April 30, 2023
Decisions on acceptance: May 29, 2023
Registration opens: May 31, 2023
Registration closes: September 10, 2023
CONFERENCE ORGANIZING COMMITTEE