[CONFERENCE] Beyond A.I: Leading wisely in the post-digital society

Wednesday, November 16, 2022 at 6:30 pm at the Teilhard de Chardin amphitheater
Université Catholique de Lille – 41 rue du port à Lille
———————————————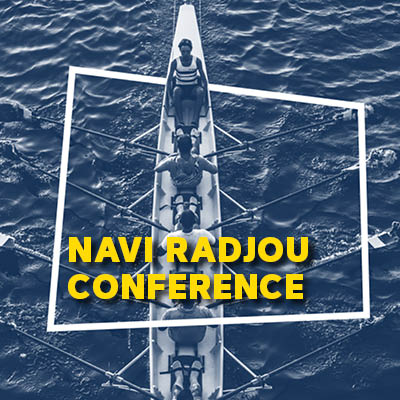 Our modern society is obsessed with intelligence. We highly value "smart" phones, "smart" cars, "smart" cities. Likewise, smart people impress us with their intellectual power and uncanny ability to achieve their goals. With the rise of Artificial Intelligence (AI), people believe we need to "augment" our human intelligence to compete with robots. But smartness alone is not always sufficient to keep leaders out of trouble and sustain their success over time.
Covid-19, the war in Ukraine, and the climate crisis all indicate we are entering a VUCA (Volatility, Uncertainty, Complexity, Ambiguity) world. To thrive in this unpredictable environment, Navi RADJOU proposes a different and counterintuitive approach to leadership that goes beyond optimizing "smartness" and leverages your innate wisdom.
Wise leadership, Radjou argues, means cultivating greater self-awareness, broadening one's perspective, integrating logic (head), emotions (heart), and intuition (soul) in decision-making, and acting with ethical clarity, flexibility, and authenticity.
Wise leadership is the foundation for lasting success in the emerging post-digital conscious society, in which Generations Y/Z employees seek meaning in life and want to work for purpose-driven organizations.
Drawing on many inspiring real-life stories of wise leaders and his acclaimed book From Smart To Wise, Radjou will identify six core capabilities that managers at all levels can cultivate and use to operate consciously as a wise leader every day.
He will also examine how the post-digital conscious society—anchored by the Generations Z and Alpha—will radically reshape the core identity and values of organizations and reinvent the roles and responsibilities of leaders.
Navi's proven tools and framework will help you reflect, introspect, and gain clarity about your role as an effective leader today or in the future.
During this conference with Navi, you will learn how to:
Act in ways that are both authentic, appropriate, and ethical
Unleash and harness the collective ingenuity of your teams
Make tough decisions by integrating logic, emotions, and intuition
Cultivate "adaptive resilience" by balancing fortitude and flexibility
Gain role clarity and operate with a sense of purpose
Maintain emotional stability by practicing "heartfulness"
By cultivating these six wise leadership capabilities, you can help your team and your organization thrive in the VUCA (Volatility, Uncertainty, Complexity, Ambiguity) environment that will define the next decade.
As Navi points out: "You can't out-smart AI, but you can out-wise AI !"
About our speaker
Navi RADJOU is a French-American innovation and leadership scholar. He has served as a Fellow at the University of Cambridge's Judge Business School (UK) and as a vice president at Forrester Research, a technology research and consulting firm in Boston. Navi is ranked by Thinkers50 as one of the 50 most influential management thinkers in the world. In 2013, Navi won the prestigious Thinkers50 Innovation Award, given to a management thinker who is redefining the way we think about and practice innovation. He spoke at TED Global 2014 on frugal innovation (+2 million views). Navi is co-author of Frugal Innovation, published by The Economist, as well as the global bestseller Jugaad Innovation (over 250,000 copies sold) and From Smart To Wise: Acting and Leading with Wisdom. He is working on his next book Conscious Enterprise. He is a much sought-after keynote speaker and widely quoted in the international media. Born and raised in Pondicherry, India, he holds dual Franco-American nationality. He studied at Ecole Centrale Paris and Yale School of Management. After living in the US for 22 years, Navi returned to France where he now resides. He is a long-time student of Yoga, Ayurveda, and Vipassana (mindfulness) meditation.