Back
11th edition of the CREENSO Prize: discover the social enterprises supported by IÉSEG students
On October 14th, on the Paris-La Défense campus, the official launch of the 11th edition of the CREENSO Prize, the national prize for social entrepreneurship, took place. Created in 2011 by IÉSEG and the Fondation Ceetrus pour l'Entrepreneur Social, led and managed by Nhood France, the CRÉENSO Prize has already rewarded over 120 social enterprises. It has thus enabled these start-ups that focus on the human and social aspects to develop and increase their visibility and notoriety. It has also contributed to the emergence of a new generation of responsible entrepreneurs at IÉSEG.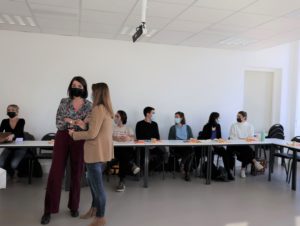 This year, six companies have been selected to participate in the 11th edition of the CRÉENSO award. During the academic year, a student in Master cycle of the Grande École program will assist and support the winning entrepreneur in one of the major areas of his or her program of studies, depending on the needs of the project: Marketing, Communication, Audit, Management Control, Human Resources, Management… This project is integrated into the framework of a marked module that is part of the student's curriculum and allows him or her to experience a concrete situation of business consulting.
During this kick-off, the six winning entrepreneurs had the opportunity to meet their student and to start with their first work meeting. At the end of the academic year, the best projects will be rewarded with a global financial prize of 25 000€. 
The winning companies of this 11th edition are:
See you in May 2022 for the final of the CRÉENSO Prize, during which the jury will reward the winners.
More information: http://www.creenso.fr