Back
Atelier Belette – an eco-responsible brand for breastfeeding women
Atelier Belette, a start-up incubated at the IÉSEG Incubator, was officially launched in February 2021. This clothing brand for breastfeeding women aims to be eco-responsible, ethical and at the cutting edge of fashion. We met with Marion STRAGIER, its founder and 2009 graduate of the School, to talk about her company and her journey as an entrepreneur.
How was Atelier Belette born? What is the concept?
It all started with a personal experience. I had been working in the clothing industry for ten years and had reached a point in my life where I was looking for something different. Then, I got pregnant. That's when I discovered a whole new world: nursing clothes. I was not comfortable with the idea of exposing myself when I was feeding my baby outside, but the nursing clothes I found on the market did not match what I was looking for. I wanted " regular " clothes, practical and above all fashionable. On the other hand, I wanted pieces that were safe for my baby, without endocrine disruptors or toxic dyes. Using my knowledge of the textile industry, I decided to launch my own clothing brand.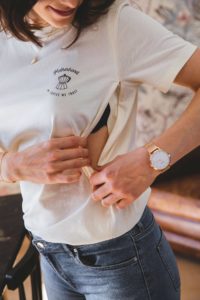 Atelier Belette is for moms who like fashion and who don't want clothes that look like nursing clothes. For those who care about their impact on the environment and on society. Our products have side openings with invisible zippers, ensuring the discretion sought by some and above all the practicality. The collection is made in Portugal, as they are specialists in the "cut and sew" knit. We use only GOTS certified organic cotton. This label implies very thorough controls on the entire production chain, to ensure total safety in terms of health but also a limited environmental impact and good working conditions.
How did you get started with this project/what did you have to set up first?
I already had the skills for the product development part, but not the entrepreneurial part. When you start a business, you have to do everything: accounting, finance, marketing, economics… I had to get a lot of information from different sources to be able to set up everything. My network was also a great support: the stylists and designers I met during my previous jobs helped me a lot in the finalization of some projects. The IÉSEG incubator also helped me a lot.
How has the IÉSEG Incubator helped you?
What's great about the Incubator is that we are a number of companies in various fields, and everyone can bring their own advice to the others. When you have a question, you always get an answer from someone who has already gone through the same problem, or who knows someone in his or her circle who can give you some guidance. This allows us not to feel alone, because working alone is not always easy. The Incubator also creates synergies: I recently developed a partnership with "Les Apprêtés" , a start-up that rents out ethical clothing.
As an entrepreneur, what has been your greatest satisfaction and difficulties encountered so far?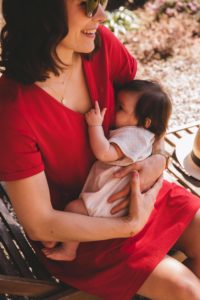 I launched a crowdfunding campaign on Ulule and it was a hit! Within two hours I reached 100% of my goal, and 513% after one month. It was a great satisfaction for me because it showed me that many people were interested in my project.
As far as the difficulties are concerned, I had a good command of the job of a buyer in large groups but being a buyer in a small company is much more complicated. We don't have the same leverage when negotiating with suppliers, so I am sometimes forced to accept certain things that I wouldn't want to.  You have to know when to make compromises.
If you had any advice to give to a future entrepreneur?
You have to go for it, follow your dreams and take the plunge! While measuring the risks of course. In my opinion, there are two essential questions to ask yourself: what do I risk if it doesn't work? Will I have regrets all my life if I don't try? Then, you have to surround yourself with the right people at the right time, be flexible, curious, not be afraid to touch everything and always be connected because today social networks have a major role in the development of a brand.
Atelier Belette is currently preparing its winter collection which will be released early December. More information about Atelier Belette: https://atelierbelette.fr/