Back
IÉSEG redesigns its Bachelor in International Business in line with changing expectations of students and companies
Launched in 2015, the IÉSEG Bachelor in International Business is a three-year fully English-language program designed for students – French as well as international – interested in pursuing a career in international management. In recognition of its high level of academic quality, rigor, faculty expertise and intercultural orientation, the program has been awarded the full range of accreditations – namely the VISA and more recently 'grade de licence' – by the French Ministry of Higher Education and Research.
The objective of the program is to train future managers who – upon graduation – will be able to work in an international environment​, will be fully operational and efficient​, will act in an ethical manner in their management practice,​ and will be effective team members. While the overall aims of the program will remain the same, important modifications will be introduced under the new reform that will be launched in September 2022. In response to current market trends and the changing expectations of students as well as companies since the introduction of this program, the reform initiatives concentrate on three main areas: 1) structure and pedagogy; 2) intercultural dimension; and 3) a personalized curriculum with cutting-edge specializations.
A program with multiple options
Identifying a career trajectory and a course of study leading up to it can be a daunting experience for young adults. Furthermore, there is a notable shift among the current population of students who tend to favour programs with shorter duration and with different options to choose from. The IÉSEG BIB offers its students various trajectories – composed of 3 and 4-year formats – to help them tailor their journey and select a course that best suits their needs. The 3-year option offers two paths for graduates: thanks to the combination of firm theoretical foundations and highly professional and practice-oriented training, students can either enter the market or alternatively pursue a follow-up specialized Master program at IÉSEG or at another institution. The 4-year option provides students the possibility for further diversification; either by pursuing one of the Double Degree partnerships or the European Triple Bachelor, or by taking a gap year for additional exchange, internship or international experience.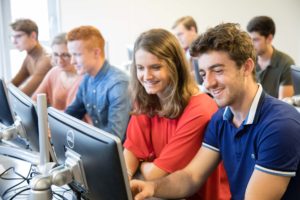 A renewed pedagogy with an emphasis on innovation and practice
The new BIB curriculum has been designed to deliver a learning experience that gradually evolves in terms of complexity, skill attainment and autonomy throughout the course of its three years. The content has been carefully balanced to cover management theory and skills as well as personal and professional competences. In order to foster the student learning experience, the new curriculum will embrace an innovative pedagogical design that is infused with creative and effective technological solutions, applications and content. Partnerships established with EdTech firms (e.g. DeepMemory, Wooclap, etc), as well as with prominent content providers (e.g. LinkedIn Learning, Harvard Business School Publishing) will be leveraged to achieve our aims. Students will be exposed to a combination of learning experiences that include guided, self-paced and individual learning using top digital platforms (readings, short online modules, simulations), and that are complemented by interactive classroom sessions that invite student reflections, encourage lively discussions and enable active project-based learning.
Several new initiatives will be introduced to advance the preparation and expertise of the graduates even further. These include longer internships (i.e. min. 10 months) that enable students to assume roles with greater responsibility; business games and simulations that help participants apply theory into practice; a guest speaker series whereby faculty members across different disciplines invite industry representatives to share their professional outlook and expertise with students in their courses; and an intensive career program with personal coaching to help students find a professional project that fits well with their career path and aspirations. These engagements will be enhanced by certain new elements in the curriculum that further affirm the program's holistic orientation towards student learning and development. For instance, we will launch the 'IÉSEG approach' initiative that represents a unique signature bundle delivered to all students early on in their studies, in order to reinforce the core values represented by IÉSEG – including CSR, ethics, sustainability, responsibility, integrity, and openness to cultural diversity.
The BIB reform has been a highly collaborative endeavour, soliciting input from various stakeholders that include IÉSEG faculty members from all core disciplines, staff members representing key functions, current students, alumni, and industry experts together. A 'Professional Advisory Board' brings together experts from the academic world and from companies to jointly explore and reflect upon the orientations, adaptations and aspirations of the BIB program. This body also plays a pivotal role in shaping the specializations to ensure that they are relevant and timely, and that they meet and address contemporary market needs.
Bernadett KOLES, Academic Co-Director of the BIB program in Paris, explains: "Managing this reform was a highly rewarding and intellectually stimulating experience. The mission, quality, espoused values and ambitions of the original program were already highly competitive, and our prior years of experience helped us recognise that many aspects worked very well and should be sustained. Our collaborative review initiative enabled us to implement some modifications to further sharpen the BIB identity. We are proud to launch the new program that offers a relevant, timely, balanced and personalized curriculum; engages cutting-edge innovative pedagogical solutions; embraces a journey approach to student learning with coaching and continuous development at its core; and incorporates student-industry collaborations leveraging our corporate partnerships."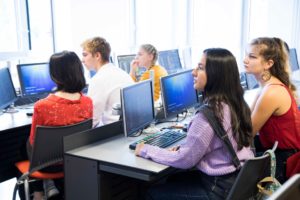 A truly international experience
The BIB was a highly international endeavour from its onset, as many of the students come from a wide range of different countries and cultural backgrounds. Importantly, all of the students – French and international ones alike – embrace an international mindset, show curiosity towards different cultures, and are interested in working with others in an international context. These are core values of the program and the School places a particularly strong emphasis on this international orientation. In addition to the internal diversity, the program exposes the students to additional international experiences in the form of academic exchanges, internships abroad, and participation in dual or triple degree partnerships. Given these aims, the School seeks partnerships with other academic institutions that represent a strategic fit, bringing value to its students. Beyond the direct benefits that come from exposure to other cultures, through these experiences students also gain a truly international education by living, studying, and working abroad. They become familiar with alternative educational methods and management approaches, advance vital skills and competences such as self-confidence, independence and autonomy, and most of all meet new people from around the world with whom they will form lifelong friendships and extend their professional network.
Hassan EL ASRAOUI, Academic Co-Director of the Bachelor in International Business in Lille, explains: "This program is a perfect springboard for a successful international career. Courses like Understanding Cross Cultural Management, Business Law for International Managers, International Economics and People Management are proposed throughout the six semesters of the program so that students can develop all the required hard and soft skills to succeed in an international context. Moreover, numerous partner universities all over the world are available for an academic exchange as part of the program. Colombia, Germany, South Korea, Spain, the United States, Finland, Japan, Malaysia, Mexico, the Philippines, and Portugal are a few examples of countries where students have exchange opportunities. Additionally, students can opt for a Double Degree with one of our partner institutions, such as Haaga-Helia University of Applied Sciences in Helsinki (Finland), Universita Carlo Cattaneo LIUC in Castellanza (Italy), Kozminski University in Warsaw (Poland) or University of Hertfordshire in Hatfield (UK)".
In September 2021, IÉSEG launched a unique and one-of-a-kind program – the European Business Bachelor – that enables students to obtain three degrees during four years of study from three prestigious and accredited Business Schools: Sheffield Business School (UK), IÉSEG School of Management and IQS School of Management in Barcelona (Spain). This unique collaboration between IÉSEG and the two European partners aims to give students an insight into doing business globally. Students will learn whilst living and studying in three different European countries for four years and deepen their knowledge of international business while being exposed to different environments and cultures.
A relevant program for companies
Companies nowadays are looking to hire graduates who are highly trained, efficient, team-oriented, and have a solid understanding of core business principles that they can readily apply to practice. In addition, particularly in the case of certain positions that carry greater responsibility and hence require specific skills, it is also desirable for candidates to hold specialized expertise in key areas.  Consequently, the following concrete steps were taken in the reform to address these above trends and needs. First, the School revised the structure of the curriculum to reflect and build upon the increasing competences of students.  After a first year dedicated to more foundational aspects familiarizing students with the world of business (through courses like Business Exploration, Art and Science of Marketing, Introduction to Financial Institutions, Markets & Risk, etc), the second year progresses to more advanced topics and specializations, enabling students to put their personal and professional competences into action. Unless students opt for a 4-year option, the program concludes with the third and final year that prepares students for market entry.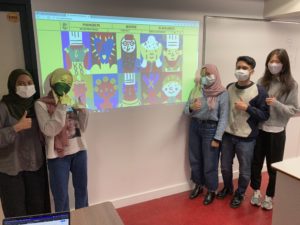 As a second step, the duration of the total internship experience has been extended and will now encompass a minimum of 10 months. This was in response to recurrent requests from students as well as companies, as longer internships enable students to pursue projects with more responsibility, which in turn provides more advanced skills and expertise. Students will now have a 1-month exploratory internship following their first year, a minimum 3-month internship following their second year, and a 6-month internship following their third year of study (and even more if they choose to make a gap year).
As a third step, new specializations will be introduced in line with industry feedback and market needs. Prof. KOLES provides further details on this: "Several relevant specializations will be proposed to students to help them develop expertise in areas that are particularly sought after by companies; such as Start-up Management, Artificial Intelligence, Fintech, and Customer Journey Management, to name a few. In addition to the specialized elective courses that will be introduced to address each topic, several other engagements throughout the program will also be shifted to be more closely aligned with the core areas of the specializations, and to give students complementary skills and perspectives in their field of interest. These will include 1) the two main internships​, 2) the study tours where students – with their colleagues pursuing the same specialization – will visit our academic and corporate partners with renowned expertise in the field; and finally 3) a capstone project that will give students the opportunity to reflect upon their studies, internships, and personal and professional journey, with a conclusive defense in front of a jury. These additional expertise will give our graduates more visibility from companies, consequently helping them navigate the job market with greater ease and confidence, and to quickly secure a desirable position".
Finally, another important change of the redesign concerns a matter that has been long awaited by both students and organizations, namely the 'apprenticeship' that provides students with the possibility to complete their third year of studies while simultaneously working at a partner organization on a specific project. This initiative will be launched starting in the 2024-2025 academic year, organized at a pace such that students will spend three weeks at the company and one week at IÉSEG taking part in classes. Students will thus follow a course that is slightly adapted in its structure to suit their needs, but that will nonetheless guarantee a high level of rigor and academic content. The Career Center will closely accompany the students in their search for an apprenticeship and will help them prepare their curriculum and their job interviews.
Prof. KOLES and Prof. EL ASRAOUI conclude: "With this new program, we will equip our students with the necessary know-how, the confidence and the ability to enter the job market and ultimately pursue an enriching professional career. The valuable experience students gain through the longer internships, the cutting edge specializations, the harmonious balance between academic expertise, personal development and professional experience, and the program's truly intercultural orientation empowers our graduates from the Bachelor in International Business program to be able to choose from multiple options and shape their future careers, whether by immediately entering the job market or by further continuing their studies with a Specialized Master course."