Back
IDKIDS presents its CSR strategy to the Master in Management for Sustainability students
Launched in 2022, the Master in Management for Sustainability trains students to understand all the risks and challenges they will face in the future in business, especially those related to sustainable development.
The teaching of this program is based not only on theoretical courses offered by professors recognized for their expertise and the quality of their research, but also on real-time learning in real-life situations (notably through company visits, bootcamps, field projects, etc.) that teaches students to analyze the role and impact of sustainability in companies and to understand how to best integrate economic, social, societal, and environmental data into their business model.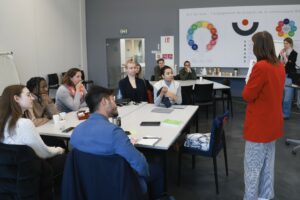 On February 27, as part of their "Strategy and Sustainability" course, the students of the Master in Management for Sustainability had the chance to visit the head office of IDKIDS, a company specializing in children's clothing and toys. Founded in 1996 in the North of France, IDKIDS is present in more than 70 countries with brands such as Okaïdi, Obaïbi, Jacadi, Oxybul, Catimini, and the Rigolo Comme La Vie nurseries.
During a whole morning organized by Céline ROMBAUT (Talent Acquisition Manager at IDKIDS), the students had the opportunity to exchange with Audrey PRAT, CSR – Sustainable Development Director, with Nina CARMELLINO-DIBON, CSR Project Manager, and Sophie LEFEBVRE, in charge of Eco-Conception & Circular Economy, who presented the group's CSR policy. Based on an ambitious Vision, "Undertaking for the world to progress at the service of the growing child", IDKIDS has launched the " We Act For Kids " movement which drives all the stakeholders of its ecosystem and which is based on 2 pillars. "We Act For The Planet" aims to reduce the carbon footprint of products and activities and to raise awareness among stakeholders on this subject. "We Act For Human" aims to ensure that human, child and labor rights are respected throughout the world.
This was an important meeting, not only for the students, who were able to better understand the company's commitment and how it takes into account the "Sustainability" dimension in its business model, but also for IDKIDS. Opening the doors of their headquarters to the younger generation is indeed fundamental to attract the leaders and changemakers of tomorrow's world.