Back
Social entrepreneurship: IÉSEG and IMMOCHAN Foundation announce the winners of the 6th Edition of the CRÉENSO prize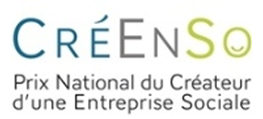 On May 18, the IMMOCHAN Foundation for Social Entrepreneurship, in collaboration with IÉSEG, presented the winners of the CRÉENSO social entrepreneurship competition with their prizes.
The CRÉENSO competition aims to reward the creators of a social enterprise in France in two ways:
• Support from an IÉSEG Master student. Throughout the academic year, the student assists and supports one of the entrepreneurs that have been nominated in the area of his/her Master specialization: marketing / communication, audit / management control, human resources, management … as required by the supported project.
• € 20,000 is also awarded by the foundation to the three top prize winners (€ 10,000 for the winner of the 1st Prize, and € 5 000 for the 2nd and 3rd places).
Of the 60 or so applications received for the 6th edition of the competition, 15 entrepreneurs benefitted throughout the year from the support of IÉSEG students. In May, the CRÉENSO jury then met to attribute the three top prizes that were then presented at a ceremony at the IÉSEG campus in Paris.
The 1st prize, € 10,000, was awarded to CetteFamille, a social enterprise which connects host families and elderly people who are losing their autonomy. The idea for this social enterprise, which offers an alternative to nursing homes, was born in Argentan in Normandy.
The 2nd prize, € 5,000, was awarded to Tributerre, a collaborative recycling /compost solution for bio-waste by citizens with digital support.
The 3rd prize, € 5,000, went to Humaid, a crowdfunding platform which serves people with disabilities, and which enables the public and businesses to finance essential needs (wheelchair, home modifications etc ).
Finally, the jury's special prize (Le 'prix coup de coeur')  went to Les Petits Plus a 'solidarity' School which brings together for parents and children at the same location: school/crèche and co-working.
More information about the CRÉENSO prize is available in French