Back
 IÉSEG listed as one of 30 top schools in first-ever Positive Impact Rating (PIR) and is selected as a "PRME Champion"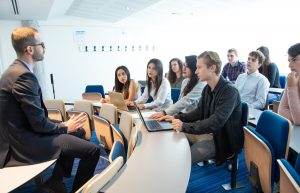 A new student-based rating* measuring the positive impact of business schools internationally, was launched during a session at the recent World Economic Forum in Davos (January 2020). The Positive Impact Rating (PIR) aims to look at how business schools contribute to solving societal challenges for example "by energizing the school and its culture, by educating responsible leaders, by providing relevant research results" etc.
IÉSEG is pleased to announce that it features amongst the 30 leading international schools listed in this first edition of the PIR. More information is available on the PIR website.
One of the new Principles of Responsible Management Education (PRME) Champions
Meanwhile, the School has also been selected as one of the new PRME Champions (2020-2021 cycle), the flagship program of UN-backed PRME initiative. The mission of the PRME Champions group of schools is to contribute to thought and action leadership on responsible management education in the context of the United Nations sustainable development agenda. The Champions are selected based on a track record of sustainability implementation, commitment to PRME, as well as their leadership through Working Groups, Chapters, Regional Meetings and various other venues of engagement.
36 Schools from across the world will take part in the fourth cycle of the Champions initiative that was also officially launched at Davos. More information about the PRME Champions initiative is available on the PRME Website.
Jean-Philippe Ammeux, Director of IÉSEG explains: "Our selection as a PRME Champion, and our listing in the new 'Positive Impact Rating', confirms the School's commitment to ensuring that social responsibility and sustainability are at the core of all our activities. It also highlights our aim to create a more sustainable future for all; and to provide the skills, competencies, and tools that will empower our students to manage and lead change. We will continue to work closely with our stakeholders to go even further in this journey."
About the PIR rating*:
The international student organizations oikos, AIESEC, and Net Impact have joined forces with WWF Switzerland, OXFAM International and UN Global Compact Switzerland to launch this new business school rating. In this first edition of the Positive Impact Rating, international student organizations reached out to students at the top 50 schools in the Financial Times Masters in Management 2018 ranking (FT) and the top 50 school in the Corporate Knights Green MBA ranking (CK). 51 business schools participated in the rating. The Positive Impact Rating features 30 leading schools that have performed well in this student rating.
https://www.positiveimpactrating.org/the-rating