Back
IÉSEG reinforces partnership with Universidad de la Sabana in Colombia with new double degree agreement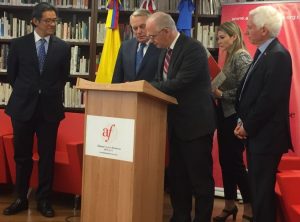 IÉSEG has reinforced its partnership with Universidad de la Sabana (Colombia)  by signing a double degree agreement that will enable students from the Colombian university to gain a Master of Science (Msc) degree from IÉSEG as well as their degree from their home institution.
The new agreement was officially launched at an event in Bogota on the 19th December in the presence of: Jean-Marc Ayrault French Minister for Foreign Affairs & International Development; Jean-Marc Laforêt, French Ambassador in Colombia; Enrique Enrique Sanchez-Albarracin, Attaché de coopération Universitaire at the Institut Français; Obdulio Velasquez Posada, Rector at the Universidad de la Sabana; Carolina Velasquez Mora, the university's Head of internationalization; and Pauline Poupard, Head of the IÉSEG Latin America Representative Office. The event was organized in the context of the launch of the "Franco-Colombian" year in 2017.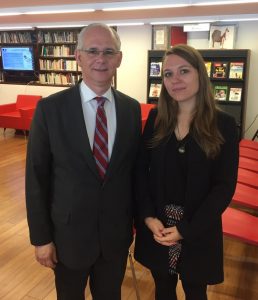 Under the partnership, students from Universidad de la Sabana who have completed the required undergraduate studies in business or finance will be able to take IÉSEG's MSc in Investment Banking & Capital markets. Students from the university (having completed the relevant prior studies) will also be able to join IESEG's Master of Science in International Business Negotiation.
Upon successfully completing their studies at IÉSEG, they will graduate with a degree from both institutions.
"We are delighted to sign this new agreement with the Universidad de la Sabana," explains Stephen Murdoch, Associate Dean, International. With the opening of the IÉSEG Latin American office earlier this year,  we are looking to  further extend our academic and corporate network in the region  and increase the involvement of our students, faculty and administrative personnel in this exciting region of the world,"
A full list of IÉSEG partners in Latin America is available on our website.