Back
MSc in Digital Marketing & CRM: focus on the digital marketing strategy course
As part of their digital marketing strategy course, participants of the "Master of Science in Digital Marketing & CRM" have been working in close collaboration with different companies ( including a specialist in the design and distribution of innovative electrical materials; a portal dedicated to student issues; and a specialist in promotional items, personalized textiles, business gifts …) on real digital marketing cases.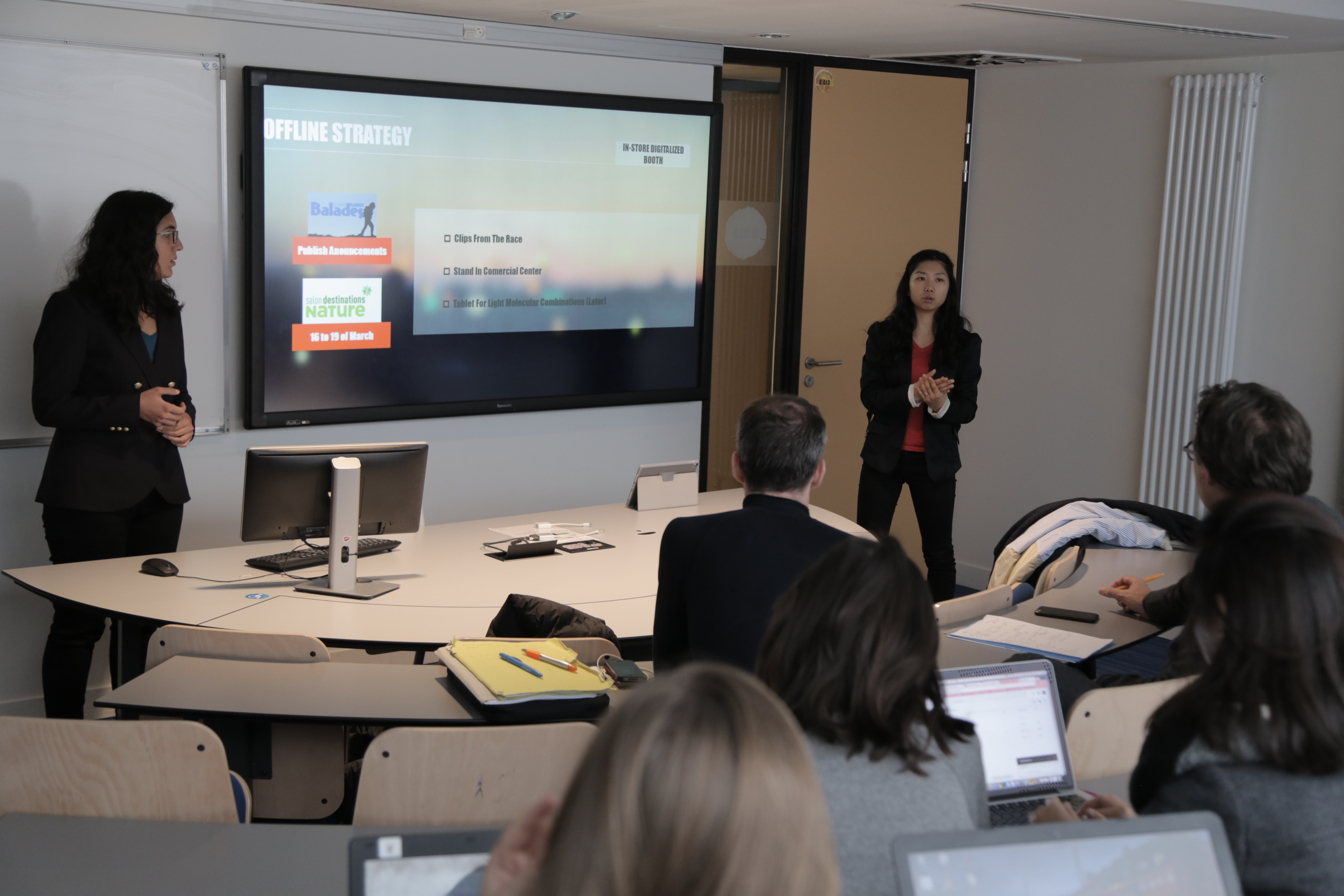 Representatives from the companies are first invited to the School to present their activity and more specifically challenges/issues related to digital marketing (for example the international launch of a new own brand lamp for Finatech).
The MSc students are then divided into groups, to work together for about 1 month, before presenting their recommendations to executives from the companies. Once their presentation is finished, students are given a fictive position on the company's Executive Committee (CDO, CFO etc.), and they have the opportunity to react to the different presentations of their peers.
"This is a very useful exercise for students because they have the opportunity to use and apply theory to specific cases," says Yvon Moysan, lecturer at IÉSEG.
"In addition, presenting their recommendations before an audience puts them in a situation they will face in their future careers. They will be led to carry out this type of presentations and answer the board's questions if they join a consulting firm or a communication agency. Conversely, if they join a company that uses this type of provider, which is the most frequent case, they will have to ask relevant questions ".
For the companies taking part they benefit from feedback and ideas from more than 20 international MSc students with very enriching personal and professional experiences, which can also be very useful for a company that is developing an international strategy.
---
Testimonials
Hervé GUILLAUME, Founding President, Finatech Entreprises: "The motto of our company is to 'always move forward'. We are therefore delighted to have collaborated with IÉSEG students who share our values of curiosity and innovation that help us to progress. They have demonstrated their knowledge and expertise in digital marketing, and have presented us with very interesting ideas for our future development. "
Charles-Henri Carton, Manager, Pimp My Team: "By taking part in this course, I was able to benefit from the experience of digital professionals. Challenging my ideas with the 30 students was a real source of new ideas. "
Alexandre Appert, Quiétude Co-founder: "The goal of our young company is to make life easier for students, whether it is question of orientation, administrative procedures, or professional life. This service is aimed at both French and foreign students and has benefited from the opinions and expertise of these different profiles of students at IÉSEG that has been extremely rich! Their involvement in our project was impressive from the very first meeting and the result exceeded our expectations! Proposals that could compete with those from professional firms.
---
Master of Science in Digital Marketing & CRM
This program was launched in 2014. Digital communication and customer relationship management are key priorities for all marketing managers in order to increase the competitiveness and profitability of the company. The main objective of the program is to prepare future managers for developments in digital marketing and CRM, so they are able to define effective marketing strategies by making better use of customer data.
By combining theory and practice, students have a better understanding of the importance of customer relationship management in a cross-channel environment and become real experts for companies, explains  Véronique Pauwels Delassus, Academic Director of the program.