Back
Professional and personal transformation during the IÉSEG Executive MBA program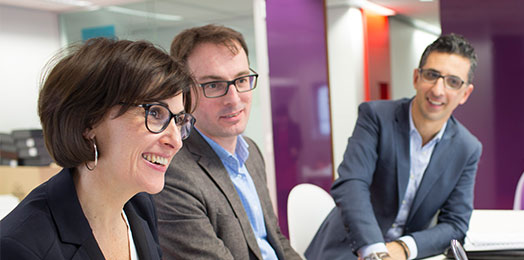 This October, a new group of executive managers, senior executives, and entrepreneurs (on average 42-years old) started the IÉSEG Executive MBA on the Paris-La Défense campus.
In the first module, these participants, with an average of 18 years of professional experience, all got a glimpse of the professional and personal transformation that they can experience through their Executive MBA.
Catherine Demangeot, Academic Director of the program, and Alain Duluc, expert for the 'Positive and transformational leadership-A personal journey' module and Senior Manager of the leadership program at Cegos, led a seminar to help participants identify the factors which influence trust. They learned how to foster trust and the actions that can destroy it. The goal is for them to understand leadership fundamentals and processes to conduct teamwork and to reach objectives and results.
These different activities are designed to help each participant to develop their capacities to be a positive leader, inspiring trust and improving their teams' performance.
Throughout the program, these professionals will support each other and work together as the program (with its different pedagogical tools) helps them to:
–    develop a strategic mindset in a changing environment;
–    organize for sustainable performance;
–    lead for innovation;
–    develop positive and transformational leadership as a personal journey.
Catherine Demangeot explains: "The two-year program is both a long-term project and a series of immediate explorations and discoveries that participants experience from the moment they arrive at the School. They are given different tools to enable them to start thinking and acting differently in both professional and personal contexts."
The program in a nutshell:
–    Location: IÉSEG Paris – La Défense
–    Next session begins: March 2019
–    Languages: French and English
–    Length and rhythm: 12 months + 12 months
•    1st year: Friday and Saturday every other week
•    2nd year: Friday and Saturday once a month
–    2 learning expeditions
–    Price: €39 000
–    Contacts: Cindy Bauer and Alizée Rayes
P: +33 (0)1 55 91 98 06
Email :
diplomants@ieseg.fr