Back
IÉSEG students win Warsaw Negotiation Round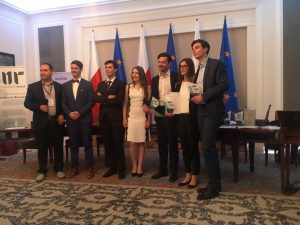 Three IÉSEG students from the Master of Science in International Business Negotiation, Verena Reichhalter, Felix Miller and Sebastian Schäfer, recently won the ninth edition of the Warsaw Negotiation Round international competition, which took place on April 19-22.
Out of the 24 original teams, twelve teams, including two teams from IÉSEG, were invited to participate in the Negotiation Round at the Warsaw School of Economics.
The event included four different rounds to determine the teams that would go to the final round. The jury, made up of negotiation and communication experts, then ranked participants based on their negotiation skills and the terms of their final agreements.
"We are delighted that our students did so well in this competition. We look to ensure that our program is practical, realistic, and rapidly applicable for students," explained Chavi Chen, professor of International Negotiation at IÉSEG.
"We teach that, in negotiation, it is important to be ethical and to respect people. Similarly, it is essential to focus on the process instead of just trying to win. The relationship between negotiators is a crucial part of negotiation," Chavi Chen added.
For more information about the Warsaw Negotiation Round: http://warsawnegotiationround.com/
For more information about the MSc in International Business Negotiation: https://www.ieseg.fr/en/programs/masters-science/msc-negotiation-organizations/