Back
IÉSEG students are back on campus for a 100% in-class academic year
Noise in the hallways, busy break rooms, empty coffee machines, laughter, conversations in many languages, students looking for directions… no doubt, it is back to School!
After two hectic academic years, life at IÉSEG has fully resumed with 100% in-class teaching, to the greatest pleasure of students, professors and administrative staff. Even though distance learning was successfully carried out by the professors, nothing can replace the physical presence and interactions, which students were asking for and are delighted to find again today, in strict compliance with health regulations, of course!
In front of the Paris-La Défense campus, a group of first-year students of the Grande École Program confirm: "we are really happy to be able to start the year in more or less 'normal' conditions! We are discovering a new school, the campus is great. We have a lot of things to discover here and it would have been a shame to be able to live this experience only remotely!"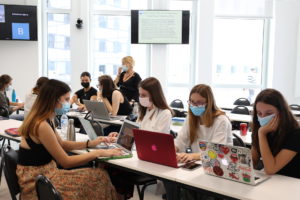 This new academic year is therefore an opportunity for students to create new ties with each other, with their professors and with the School in general. They will also be able to take advantage of the rich associative life that IÉSEG offers. Indeed, no less than 52 associations dedicated to various themes such as sports, arts and media, entrepreneurship, CSR, gastronomy… are present on both campuses and provide students with the opportunity to participate in diverse exciting events throughout the year. These associations contribute greatly to the integration and well-being of students at the School. On the Lille campus, they can even enjoy brand new premises, specially designed for them.
Two new programs for the academic year 2021/2022
Among the students who are exploring the School's premises for the first time, IÉSEG is pleased to welcome the first students of its two new programs:
– The MBA in Leadership & Coding in partnership with Le Wagon. This one-year MBA, offered on the Paris campus, enables participants to grasp the growing complexity of a rapidly changing digital world, through a career that leverages analytical and managerial skills in business and tech.
– The MSc in Entrepreneurship and Innovation, in partnership with Loughborough university in London, aims to develop the students' critical thinking skills in order to assess the factors that influence the success of new company creation and the innovation process.
Events are back on campus
In addition to the resuming of courses and associative life, IÉSEG is also pleased to offer again in-person and online events to all its community. Thus, on October 14th the conference "transform your company by linking strategy and humanism" will be held (in French) on the Paris-La Défense campus. It will be hosted by Catherine ARCHAMBAULT, professor in Strategy at IÉSEG and Nicolas HENON, co-founder of Acts and Facts and former CEO of KIABI worldwide. An online conference-debate will also take place (in French) that same day on the topic: "Start-ups, Scale-ups, Unicorns: what role in tomorrow's economy?" with Benjamin PATERNOT, Executive director of the Fund of Funds, BpiFrance Investissement, and Philippe COLLOMBEL, general partner and founding partner, Partech.
More events will be announced throughout the year – make sure check the event calendar regularly.
Discover the key figures for the academic year 2021/2022