Back
Olivia, the smart self-service distributor that offers fresh, local and artisanal products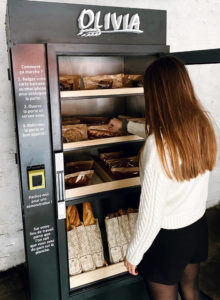 Every year, the IÉSEG Incubator, based on the Lille and La Défense campuses, supports young entrepreneurial talents from the IÉSEG community, such as students, graduates and staff. Last January, more than 20 start-ups joined the Start programme, which offers them a dedicated space as well as an individual (coaching sessions) and collective (workshops led by experts) support programme for 12 months to encourage their growth and development. This month, let's meet Baptiste Breton, a 3rd year student of the IÉSEG Grande Ecole programme, who is among the youngest incubatees and founder of Olivia, a smart self-service distributor of pastries and bakery products.
Baptiste, where did the idea of creating Olivia come from and why this name?
The idea came from my own personal experience. At IÉSEG, my busy schedule didn't leave me much time to go and buy food during breaks. The vending machines on the campus only offered unhealthy, industrial products which were full of additives, or soft drinks that were far too sweet. I realised that there wasn't a convenient or healthy alternative. As I am fond of the art of baking and fresh products that are both sweet and savoury, I came up with the idea to create a vending machine which offers fresh, local products that are made in the traditional way.
Why Olivia? I decided on a first name to create proximity between the vending machine and my customers. I also wanted the kind of interaction you can find in a bakery. Finally, I used the name Olivia in order to humanise the vending machine. I also wanted a female name to honour all the women who work in bakeries. Olivia is a name that appealed to me and, at the same time, intrigued me, so that's why I chose it.
Olivia offers fresh, local products that are made in the traditional way …
Since the beginning of my entrepreneurial adventure, I have relied on three pillars that have guided my thinking and my development: freshness, locality and solidarity. I work with Maison Papillon, a well-known bakery in Lille, which allows me to offer fresh products to my customers. They have a large shop on Rue Nationale and everything, such as bread, croissants, pastries and quiches, is homemade. Les Coursiers de Flandres will be in charge of transporting the fresh products from the shop to the dispenser by bike, as well as putting them in the machines. For me, it was essential to set up a green logistic system model that I could use locally. And finally, because it is inconceivable to throw away unsold products, anything that is left over will be taken to the Restos du Cœur in Lille.
Where is your project today?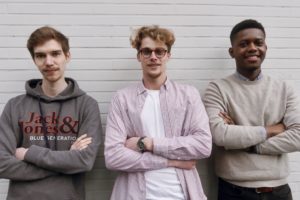 In order to develop my start-up, I called on a student to help me with communication and social networks. I also enlisted the help of two engineering school students. They specialise in computer science and were able to develop the dispensers that I had created. We manufacture these in Reims. Our first dispenser will be installed in the Palais de Justice in Lille and will be operational in May 2021. We hope to install 10 by the end of the year, with the aim of doubling our number of dispensers each year thereafter. We are already working actively to expand to Paris in 2022. However, it is very difficult to project too much into the future at the moment. The current health crisis, which strongly encourages company employees to work remotely as much as possible, does not help us in our sales efforts. Despite this, we have good prospects for development and we are confident about the future!
How has starting your own business helped you improve, both as a person and professionally?
I have always had this entrepreneurial spirit, this passion, since I was a child, this desire to create my own company. When the idea came to me, my family helped me to take the first steps. Personally, this adventure helps me grow and mature every day. At the age of 21, I have 3 people in my team, I have customers to satisfy and I have money invested in the business. When this happens, you grow up very quickly!
Being a student at IÉSEG has given me so much: I have been able to put the theory into practice immediately. The things I have learned regarding setting up a company and business law have been invaluable. Creating a business plan, doing a SWOT analysis, a market study, keeping my accounts in order, all of this was learnt at IÉSEG. Finally, being supported by the IÉSEG incubator is a real opportunity. We are part of a community where we are all experiencing the same thing. Despite having very different profiles, we are all entrepreneurs and we know that we can count on each other, exchange contacts and offer each other good advice. The workshops and coaching offered by the Incubator are really helpful, and I can always rely on my mentor to help me solve problems. It's great to know that I can take advantage of his experience and perspective to make the best decisions.