Back
Climbing to the top: IÉSEG student Florine Dori aims to reach the heights of three major peaks in nine months
Florine Dori (22), a student currently in the Master cycle of IÉSEG's Grande École Program, loves challenges. During her gap year, she has decided to embark on a challenge related to her passion, mountain climbing: she aims to climb three major peaks, Mont Blanc, Mount Aconcagua and Mount Kilimanjaro, in the space of only nine months.
In September 2019, she succeeded in completing the first step of the "3/9 climbing project" by climbing Mont Blanc under difficult conditions.
She is currently concentrating on the next steps of her project: fundraising to be able to climb Mount Kilimanjaro (5,895m) next spring, and her preparation for the ascension of Aconcagua (6,962m) in Argentina in February 2020.
Florine is already familiar with the Andes, as she discovered them during her year abroad at the Universidad Nacional del Sur in Argentina. In order to carry out her project successfully, she trains several times a week, for example with climbing, swimming, weight training, and cardio sessions.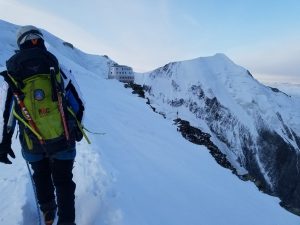 "After one year of relentless training, the success of Mont Blanc was one of my greatest victories, a magical moment," she explains. "I would like to thank all of the people around me who support me daily in this project, and who invest 100% in its success.
"Throughout this project, I've realized that IÉSEG has provided me with a lot of skills notably in terms of organization, negotiation, and project management, which are essential," the former President of the IÉSEG International Club explains.
"This project is only the beginning of my dream, which is to climb 7 grand summits, including Everest."
Follow Florine's project on her Instagram page: https://www.instagram.com/3.9climbingproject/
and discover the aftermovie of when she climbed Mont Blanc: https://www.youtube.com/watch?v=2Bs5S7KT-W4
To support Florine's project financially:
https://www.leetchi.com/c/3-9-climbing-project-make-it-possible