Back
3 students from IÉSEG's MSc Digital Marketing and CRM at the French finals of the L'Oréal Brandstorm 2021 Challenge
On April 14, three students from IÉSEG's Master of Science in Digital Marketing and CRM, Daniela BENITEZ, Anais GOMEZ and Margarida ANACLETO, represented the School with talent at the French finals of L'Oréal Brandstorm 2021, L'Oréal's emblematic innovation competition. Among the 500 teams that subscribed, only 10 reached the finals.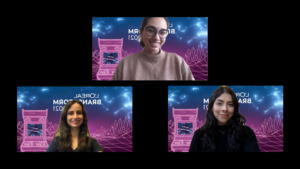 For this 2021 edition, each group had to imagine how to reinvent the shopping experience in the beauty sector through entertainment. After several weeks of brainstorming, research and exchanges with their professors, and in particular with Thomas LECLERCQ and Nico HEUVINCK, Marketing professors, the group proposed an explosive concept based on a partnership between L'Oréal and Fortnite: "Do you even polish – 2021 is the year of menicure".
Based on the observation that more and more men were using nail polish, Daniela, Anaïs and Margarida encouraged L'Oréal to invest in this niche, which had been under-exploited until now, by creating a close link between the virtual world and the real world, between the beauty industry, streaming and video games. A high-quality pitch to discover in full here.
"Taking part in this challenge has been a great adventure. Both humanly and professionally, we have progressed a lot. Thanks to L'Oréal's coaching, we are now much more comfortable speaking in public, we have learned to pitch effectively, to manage our stress, and we have gained confidence in ourselves. It was a unique opportunity because we took the best of our different cultures (we come from Honduras, Mexico and Portugal) and of the quality of the School's teaching to live this unique experience and test our skills and talent in real conditions with professionals from the leader of the luxury industry and we are proud of ourselves! "they explain.
Thomas LECLERCQ and Nico HEUVINCK add: "We are proud of our students and thanks to them we have experienced great emotions! They brilliantly succeeded in combining theory and practice. Their pitch is based on a huge amount of research (on the sector, on the psychology of men and online players, on gamification…), then they thought about how to transpose these theoretical elements into a practical and feasible reality for a company, with all the constraints that this imposes. Their proposal is of very high quality, it perfectly reflects what IÉSEG teaches: a daring practical application acombined with thorough and quality theoretical research! "
Congratulations to Daniela BENITEZ, Anais GOMEZ and Margarida ANACLETO and their Professors for their support!
Discover the full pitch in video "Do you even polish – 2021 is the year of menicure"