Back
Wepicurien – a start-up for Epicureans, by Epicureans
An eco-responsible wine e-shop that offers events around wine* – this is Wepicurien's concept, a start-up founded by Romain VESSE-LETOFFE, graduate of IÉSEG's Grande École program, and hosted within the School's incubator.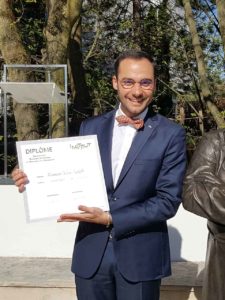 Passionate about wine and gastronomy, Romain VESSE-LETOFFE is also a graduate of Paul Bocuse Institute, which enabled him to specialize in this field. In 2020, he decided to launch its entrepreneurial project. Each month, he tastes about 100 different wines in order to select only a few of them (between 3 to 5%) that will then be sold on its online platform and that he will make discover to his customers – individuals and companies – during events and trainings. It is a great way for his Epicurean clients to be assured of the wines' quality but also to avoid the headache of choosing wines! Romain is always very pleased to advise his customers on their wine purchases for all occasions: aperitifs and meals with friends or family, birthdays, weddings, bachelorette or bachelor parties, and all other celebrations. Only organic producers or those in the process of converting to organic can be part of the selection. Through his quest for quality natural wines, Romain seeks, above all, a soul and a sensitivity that can only be found in passionate winemakers who know how to transmit their knowledge.
"Wepicurien" is mainly intended for people who enjoy the art of "producing well", "drinking well" and "eating well" and who have an eco-consciousness. Choice of organic winemakers, wine storage in natural cellars without air conditioning, recyclable packaging, delivery in pick-up points… Many initiatives aimed at reducing the company's ecological impact, and thus meeting the epicureans' expectations who wish to enjoy themselves while respecting the environment.
In parallel, « Wepicurien » also offers activities such as online culinary workshops around a specific wine with a chef from Paul Bocuse Institute, or sessions of introduction to wine tasting with its partner winegrowers. Over the summer, the start-up has also offered to people in the Paris region "BBQ days" in person to introduce them to wine tasting with a locavore barbecue. "Before all, we are looking to make Epicureanism accessible through wine, which is a link with gastronomy," explains Romain VESSE-LETOFFE. "We wanted to bring epicureans together by making them join our 'community of taste'."
To continue developing his activity, the founder of "Wepicurien" plans several events that he will adapt according to the evolution of the health situation (Covid-19). Thus, he will soon organize a tour with his team in his 2CV van from 1977 to meet his partner winegrowers and will then share their most beautiful gustatory discoveries.
Learn more about Wepicurien: www.wepicurien.com
*Excessive alcohol consumption is dangerous for your health, drink moderately.