International Summer Academy
Overview
Set in July, this four-week intensive summer program on our Paris Campus is designed to deepen the understanding of Business and Management within a broader global context.
This summer school gives students the unique opportunity to build critical business skills and study firsthand the Global Business and Management approach.
Dates: July 5th to 30th 2021
Key points of the Business summer program
The interdisciplinary approach that unites all IÉSEG summer courses, as well as the connection of different forms of learning, such as class discussions and excursions to various sites of interest, enrich the academic curriculum of each course. The IÉSEG International Summer Academy seeks to bring together students from all over the world.
Benefits
By taking part in this unique opportunity to study abroad, students will make new friends, share views with others, and may discover new academic interests. The international profile of IÉSEG gives them the opportunity to get to know students from different countries and cultural backgrounds while discovering the multicultural character of contemporary France.
By attending the IÉSEG International Summer Academy, students will benefit from the intellectual, cultural, and recreational opportunities of Paris, a place of rich history and dynamics.
Character
Students can earn up to 12 ECTS credits transferable to their home university. The Summer school offers various business and management course options taught in English, which give students the unique opportunity to study in Paris regardless of their knowledge of the French language. Moreover, for students who are also interested in learning more about the French language and culture, we have complemented our curriculum with French language courses at four levels of proficiency.
The distinguished Summer program faculty, consisting of fully qualified professors , delivers courses that focus on topics in their respective areas of research. In order to assure maximum interaction between students and faculty, participation is limited to 30 students per class.
Accommodation
During the program, students are accommodated in single rooms at one of our partner student residences.
All rooms are equipped with a desk, a single bed, a wardrobe, a bathroom with shower and toilets, a telephone, and a wired or wireless internet connection. There are kitchens and reception rooms on every floor. Laundry rooms and TV lounges are also available.
Residences are accessible either within close proximity of the school or are accessible by simple commute by public transportation.
For any other specific needs regarding accommodation, please contact summer@ieseg.fr.
Extracurricular Activities
In addition to a busy academic schedule, participants of the IÉSEG Summer Academy benefit from the high-quality selection of extracurricular activities. (Subject to change without prior notice)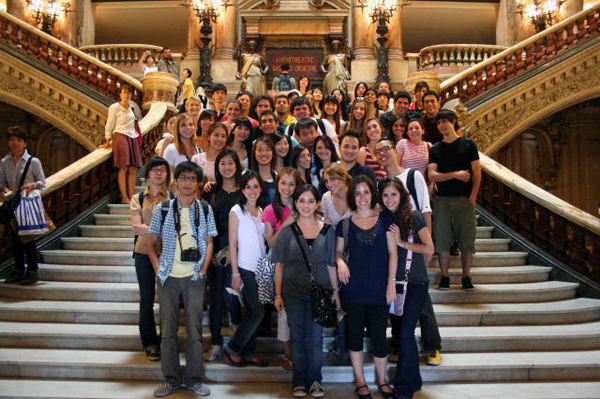 Guided backstage tour of Palais Garnier, Paris' opera house
Undoubtedly, the Palais Garnier embodies the architecture that best represents the art of the Second Empire and stands as a symbol of luxury and pleasures of the French capital. Led by a tour guide, IÉSEG Summer Academy students are amazed by its rich architecture and abundant decor. The numerous paintings and sculptures allow the Opera Garnier to be not only a theater but also a museum at the same time.
"L'incontournable" International evening
The Summer Academy International Evening is a great celebration of cultural diversity. At the same time it gives our students a chance to show their talents. The evening celebrates the culture and diversity at IÉSEG, providing an opportunity for students and staff to share in their cultural diversities through music, dance, poetry, costume and tradition.
Romantic guided Seine River Cruise
The traditional and romantic Seine river cruise is offered to our Summer Academy students as part of the welcome weekend. Since the Middle Ages, the Seine river banks form one of the most beautiful urban landscapes in the world. Many of Paris' famous sights – Notre-Dame, the Louvre, the Orsay Museum, Palais de Chaillot, the Eiffel Tower – are located on the Seine river banks. That will be an exceptional, quick and relaxing way to visit Paris during your first days with us.
Our surprising closing ceremony
An unforgettable closing ceremony marks the end of the IÉSEG Summer Academy. After the award of the Summer Academy graduated certificates, the French level certificates and the prizes of the Photo contest, a surprising show takes place. Students present a program of performances and sketches involving professors and staff and aiming to reveal their personal experience during the month passed at the IÉSEG Paris campus. The closing ceremony is followed by a farewell cocktail celebrating a new global friendship network.
Specific Activities per program
You will be able to choose between 2 to 3 elective activities among the potential following:
Guided tours of Paris' districts (Montmartre, Le Marais, Paris left bank, Street art, secret passages, etc.)
Opéra Garnier
Château de Versailles
The Fragonard Museum
Bakery class or French Gastronomy class
French Cheese testing
Day at Mont-Saint-Michel
Day at Disneyland
Orsay Museum
IÉSEG Summer Programs FAQ
Who can apply for the IÉSEG Summer Programs?
IÉSEG Summer Programs are for both undergraduate and early graduate students coming from all disciplines.
Are the courses in French or English?
All the courses are taught in English. You need to have a good command of English.
In addition, we offer French language courses during the International Summer Academy this is a great opportunity to experience and learn about the French culture and lifestyle during your stay.
If I don't speak any French can I still apply?
YES. All content-based courses are taught in English. In addition, we provide intensive French language course for all levels: from complete beginners to advanced. There will be a placement test during the orientation day so that you can be in a group with students with a similar level to yours. Even if you are a total beginner, learning some French language will help you to better experience French society and lifestyle during your stay.
How many credits will I receive upon completion of the program?
For your participation in our International Summer Programs you will be granted the ECTS credits as follow:
Entrepreneurship and Innovation Summer Program: 6ECTS
Fashion Business Summer Program: 6ECTS
Digital Marketing Summer Program : 6ECTS
International Summer Academy: 8 ECTS credits for the Topic-based courses and 4 ECTS for the French Language course
If I take IÉSEG Summer Programs will the credits be automatically transferred to my home university?
Most international colleges and universities accept credits from the IÉSEG School of Management. However, each institution has its own policy regarding credit acceptance from other institutions. We strongly recommend that the students consult their academic advisor and/or professor to receive credit transfer approval before applying to IÉSEG Summer Programs. The students who would like to transfer credits to their home universities should print out all documents and contact the professor or study abroad advisor and ask for credit and grade approval.
Do I have to take the courses suggested by this university or I can take some different options?
There will be different course options each week under a specific theme e.g. International Human Resources Management, Doing Business in Emerging Economies, Marketing Communication.
You can find all courses syllabus on the page of the program, and for the Summer Academy at the following page: https://www.ieseg.fr/en/programs/international-summer-academy/program/
What do the fees include?
The fees include:
All in-class teaching.
All course materials.
Academic transcripts in ECTS format.
A comprehensive hospitality package.
Accommodation in single room.
IÉSEG Student card giving access to libraries, computers and internet facilities.
Diverse extracurricular program with excursions, and other activities.
What is the deadline for the application?
The application deadline is April 30th ; however, we recommend applying earlier in order to have the full choice of courses.
Will I get a proof of attendance letter indicating that accommodation is provided ?
Once you complete the full Application procedure, we issue a Letter of Admission indicating that you have been admitted to the program, stating the period of time, and the residence where you will be staying (if you choose to take the hospitality package).
How can I make the payment?
By bank transfer; you will find our bank details at the bottom of the email you receive after submitting online your application and supporting documents.
Do I need a proof of medical insurance?
We want to make sure that students have an insurance that covers any possible costs of medical expenses, repatriation, and personal liability for the whole duration of the program ( More information on the program page under the "admission and fees" section).
Do I have to apply for a visa to attend the program ?
Visa requirements differ depending on your country of origin; we suggest you contact the French Consulate in your country in order to know which procedures you should follow indicated on https://france-visas.gouv.fr/en_US/web/france-visas.