Back
IÉSEG joins Babson Collaborative for Entrepreneurship Education
As of March 1st, 2022, IÉSEG becomes a member of the Babson Collaborative for Entrepreneurship Education, a global institutional membership organization of colleges, schools and universities all around the world seeking to build and grow their entrepreneurship education ecosystems. The Babson Collaborative is a global network convened by Babson College, a global leader in Entrepreneurship Education based in the USA. This network was designed as a real platform for sharing best practices and expertise, networking, co-creating new programs, exchanges and opportunities for research and formats and preparing students for entrepreneurship in all its forms. The members also participate in activities to remain at the forefront of entrepreneurship education and research.
As a member of the Babson Collaborative for Entrepreneurship Education, IÉSEG will contribute to the actions carried out by the network, which are articulated around 5 main axes: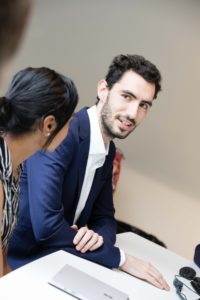 – Permanent training of the Professors in innovative pedagogies
– Animation and participation in the network
– Creation and sharing of innovative educational content
– Student participation in the programs developed by the network
-Engagement within an ecosystem for entrepreneurial education
Like all members, IÉSEG shares a commitment to developing a global learning community with a belief that greater scale and impact will be achieved by working together. All members also believe in educating entrepreneurs of all kinds who transform opportunity into reality, and create social and economic value everywhere, which is in direct link with IÉSEG's Vision to "empower changemakers for a better society".
"Becoming a Collaborative member shows the clear commitment of the School towards Entrepreneurship education and research. It's part of our Vision to infuse Entrepreneurship education in all our educational programs as well as to support all aspiring entrepreneurship in our community", says Tiago Ratinho, Academic Director of the School's MSc in Entrepreneurship and Innovation.
Entrepreneurship is essential in promoting innovation and creating jobs. Based on theory and supported by best practices, IÉSEG offers a unique opportunity for future students, professionals and entrepreneurs to explore the world of business creation. Thanks to specific content, testimonials, practical experiences and the presence of an incubator on both campuses, IÉSEG supports its students, Executive participants and graduates in their future projects.
Find out more about Entrepreneurship at IÉSEG here!